Sixth Annual Day of Giving Continues UToledo Sesquicentennial, March 29-30
---
The University of Toledo's 150th year has celebrated a wide variety of milestones and traditions, and another continues later this month.
Rocket students, alumni, faculty, staff and other supporters are invited to participate in UToledo's sixth annual, 36-hour Day of Giving fundraising campaign. This year's effort begins at 6 a.m. Wednesday, March 29, and runs through 6 p.m. Thursday, March 30.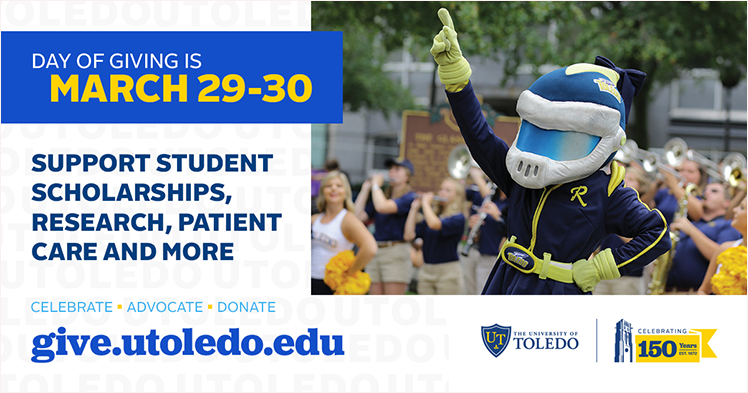 "We appreciate how Rocket Nation has come together each year to help fuel UToledo's momentum through this campaign, and we're excited to see how Rockets show their support at this special moment in our history," UToledo President Gregory Postel said. "Every gift we receive translates to supporting another successful student, a talented faculty member or a patient receiving life-saving treatment."
The goal for the 2023 campaign is to attract support from a total of 3,400 donors.
In 2022, a total of 3,233 Rockets worldwide donated a record $1,977,589 to support deserving students, colleges and programs. The fundraising total reflected a 50% increase over 2021.
"We have much to celebrate during UToledo's sesquicentennial thanks to our supporters," said Floyd Akins, vice president for university advancement. "Our students and colleges thrive today because of a tradition of generosity, and through Day of Giving Rockets are helping to secure the University's next 150 years."
Gifts may be designated to any of the more than 2,000 University of Toledo Foundation funds available, supporting the causes and programs Rockets care about most.
Early donations still count toward Day of Giving, and payroll deduction is available for UToledo employees through Friday, March 24. Visit give.utoledo.edu for payroll deduction options and more information.
Participation is an important goal for the campaign, which generates support for nearly every college and program on UToledo's campuses. Gift matches and challenges are ideal options, as they double a donation's investment and impact. Challenges and matches will be posted on the campaign website.
Beyond financial gifts, advocacy is an important part of the campaign. Day of Giving advocates help spread the word on social media, generate excitement among the Rocket community and offer matches and challenges. Anyone in the UToledo community may serve as an advocate. For full details and to sign up, visit give.utoledo.edu.
Supporters are encouraged to use #RocketForward on their social media accounts throughout Day of Giving to share their UToledo spirit, spread the campaign's impact and highlight the students, programs or colleges about which they're most passionate.