'Women in Politics' discussion to focus on local leaders March 14
---
In honor of Women's History Month, Toledo Mayor Paula Hicks-Hudson and Lucas County Auditor Anita Lopez will share their stories — and roadblocks — to becoming female politicians.
"Women in Politics" will be held Tuesday, March 14, from 6 to 8 p.m. in the Libbey Hall Dining Room.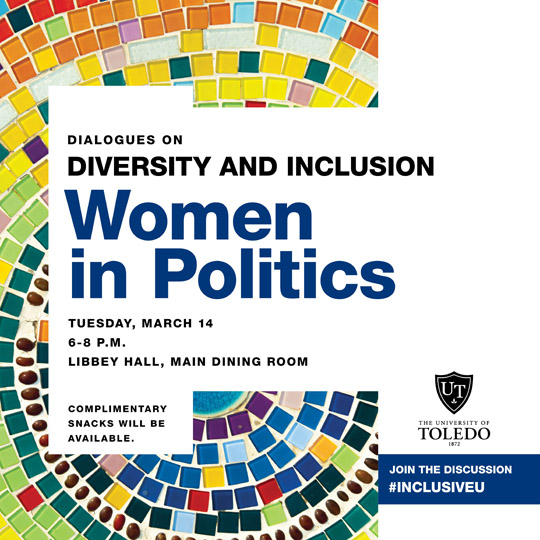 "Both of the speakers are excellent examples of local women who have persevered to become leaders in the community. They are making history as we speak," said Jennifer Pizio, associate director for the Office of Diversity and Inclusion.
Hicks-Hudson, the first African-American woman to be mayor of Toledo, and Lopez will be speakers at this month's Dialogues on Diversity and Inclusion event, hosted by the Office of Diversity and Inclusion in collaboration with the Office of Multicultural Student Success.
Pizio explained the purpose of the Dialogues on Diversity and Inclusion: "In an effort to create a more inclusive University, staff of the Office of Diversity and Inclusion host a series of free events focused on exploring, analyzing and fostering a diverse environment throughout the UT community."
In addition to talking about their personal experiences, the speakers will lead a discussion on how to respect differing perspectives, appreciate individuality, and develop a more welcoming community on and off campus.
"I would encourage anyone who is interested in politics, leadership and/or women's issues to attend," Pizio said. "It will be a great opportunity to hear firsthand from local female political leaders in an intimate setting, one that includes the opportunity to ask questions."
For more information on upcoming Dialogues on Diversity and Inclusion, visit utoledo.edu/diversity/dialogues. Join the discussion on social media at #INCLUSIVEU.