Four Rockets Receive All-MAC Recognition
---
Junior Setric Millner Jr., redshirt freshman Ra'Heim Moss, sophomore Ryan Rollins and junior JT Shumate were each recognized on Wednesday morning with the announcement of Mid-American Conference postseason honors.
The quartet has helped Toledo capture back-to-back outright league titles for the first time, en route to posting a 25-6 overall record, tied for second-most wins in program history.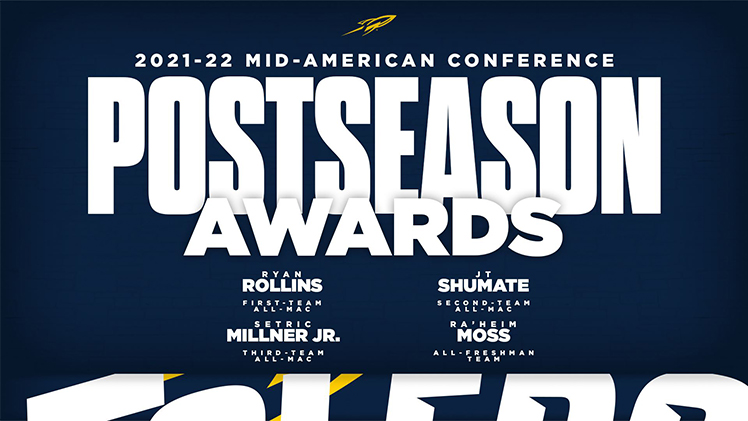 Rollins led the way for the Rockets by receiving first-team All-MAC honors after garnering MAC Freshman of the Year and honorable-mention status last season. Shumate and Millner were honored for the first time by the league's coaches, earning second- and third-team all-league accolades, respectively. Moss was named to the MAC's All-Freshman Team, marking the fifth straight season a Rocket has been on the squad.
A Macomb, Mich. native, Rollins continued the fabulous start to his collegiate career this season by becoming the fourth Rocket ever to score 1,000 points in their first two seasons. Rollins ranks third in the MAC with 19.2 ppg and 1.8 spg and is tied for the team lead with 6.1 rpg. He also is the only player in the nation averaging 19.0 ppg, 6.0 rpg, 3.5 apg and 1.5 spg or more. Rollins leads the conference with 18 20-point outings and has scored in double digits in 29 of 31 contests.
Shumate ranks second in team scoring with 15.7 ppg and is tied with Rollins for the team rebounding lead with 6.1 rpg. The Newark native ranks in the MAC's Top 15 in seven statistical categories and emerged as the league's best three-point shooter by posting a league-best 51.2 shooting mark behind the three-point arc. Shumate also leads the conference with 1.6 bpg in league play and scored a season-high 29 points vs. Bowling Green (Jan. 15) and Central Michigan (Feb. 19).
A forward from Little Rock, Ark., Millner ranks third on the team with 15.0 ppg, a 38.5 three-point FG% and an 80.4 free-throw percentage. He scored a career-high 28 points at Western Michigan (Feb. 22) and has scored in double digits in 24 contests. Millner has been red-hot down the stretch and is averaging 21.3 ppg to go along with a 66.7 FG% (32-of-48) and 56.5 three-point FG% (13-of-23) in his last four games.
Moss averaged 8.8 ppg, 5.6 rpg and 2.7 apg and started all 31 games in his first season in a Rocket uniform. Moss led the MAC in league play with a 2.78 assist/turnover ratio, scored in double digits on 13 occasions and tallied three double-doubles. The Springfield native is the eighth Rocket to earn a spot on the MAC All-Freshman Team in Head Coach Tod Kowalczyk's tenure, joining Julius Brown (2011-12), Nathan Boothe (2012-13), Jonathan Williams (2013-14), Marreon Jackson (2017-18), AJ Edu (2018-19), Keshaun Saunders (2019-20) and Rollins (2020-21).
Toledo will open the 2022 MAC Tournament on Thursday, March 10, at 11 a.m. vs. No. 8 seed Central Michigan in Cleveland's Rocket Mortgage FieldHouse.