Pi Sigma Epsilon and Be-Wise-Er to present mental health event March 13
---
Be-Wise-Er and The University of Toledo chapter of Pi Sigma Epsilon, a professional fraternity for students interested in sales, sales management and marketing, will host "Let's Talk Mental Health" Wednesday, March 13, from 6 to 7:30 p.m. in the Thompson Student Union Auditorium.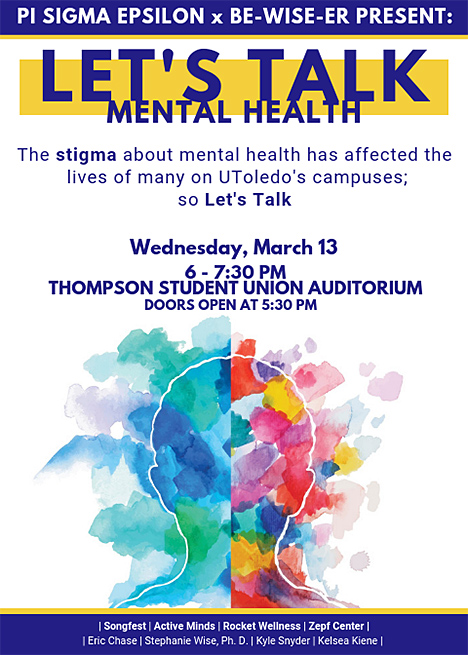 Radio personality Eric Chase from Q105.5 will kick off the program and share his experiences dealing with mental illness.
The program also will address resources, empowerment and other ways to break the stigma about mental health.
Several community organizations will provide information about mental health resources, and there will be a Narcan training at 5:30 p.m. before the program.
"We decided to collaborate with Be-Wise-Er and focus on mental health to bring more awareness of mental health, our behaviors and resources available. Songfest is raising money for the Zepf Center, a local behavioral health-care provider," said Doryin Thames, event committee and Pi Sigma Epsilon member. "Raising money isn't enough; we need to educate ourselves and our peers about how to manage mental health."
There will be food, free T-shirts, raffle prizes and more at the free event.
For more information, search "Let's Talk" on the University's Involvement Network website.