Physicist's review article featured on cover of high-impact, international scientific journal
---
A review article by Dr. Yanfa Yan, professor of physics at The University of Toledo, was chosen as the cover story for the February issue of the peer-reviewed scientific journal Energy & Environmental Science published by the Royal Society of Chemistry.
Yan is the lead author on the paper titled "Oxide Perovskites, Double Perovskites and Derivatives for Electrocatalysis, Photocatalysis and Photovoltaics." He is an expert in theory of defect physics and electronic properties in semiconductors, materials synthesis and thin film solar cell fabrication.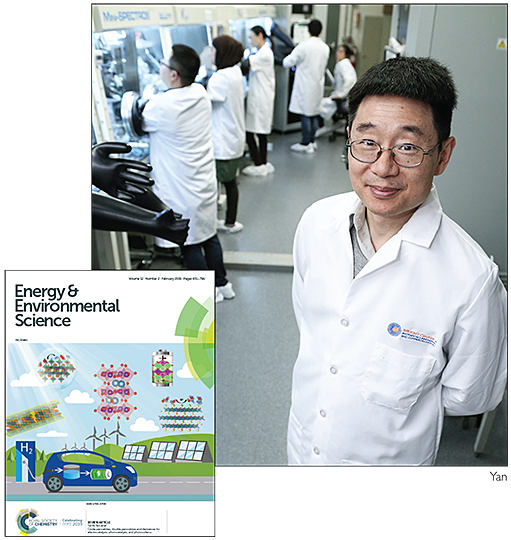 "Energy & Environmental Science happens to be one of the highest impact-factor journals — with an impact factor of 30 — in all of science," said Dr. Sanjay Khare, professor and chair of the Department of Physics and Astronomy. "It is truly an achievement and honor to get such a cover page feature and invitation."
Energy & Environmental Science links all aspects of the chemical, physical and biotechnological sciences relating to energy conversion and storage, alternative fuel technologies, and environmental science. Its readership spans the globe and includes chemical scientists, chemical and process engineers, energy researchers, bioscientists, and environmental scientists from across academia, industry and government.
Practical utilization of clean energies requires energy conversions among solar energy, electrical energy and chemical energy, involving different processes such as from solar energy to electrical energy, from electrical energy to chemical energy, and from solar energy to chemical energy.
The key to realizing high-efficiency conversion is searching novel, stable, low-cost and environmentally friendly functional materials.
"Due to the extreme flexibilities in terms of their structures and compositions, oxide perovskites and their derivatives provide a rich family of materials candidates that may meet the diverse applications aforementioned," Yan said. "This review highlights the progress of oxide perovskites and their derivatives in this field. It describes connections between the structural and compositional flexibility and the resulting tunable materials properties desirable for those applications."