Junior Forward Named to First-Team Academic All-America Men's Squad
---
Junior forward JT Shumate from Newark has been named to the CoSIDA Academic All-America Men's Basketball First Team. Shumate is the men's basketball program's first Academic All-American since Casey Shaw earned third-team honors in 1998. He joins Mitch Adamek (1981-82) as the only two Rocket basketball players ever to be named to the first-team squad.
Shumate possesses a 3.85 grade-point average in middle childhood education and is one of five student-athletes in the nation to be selected to the first-team squad.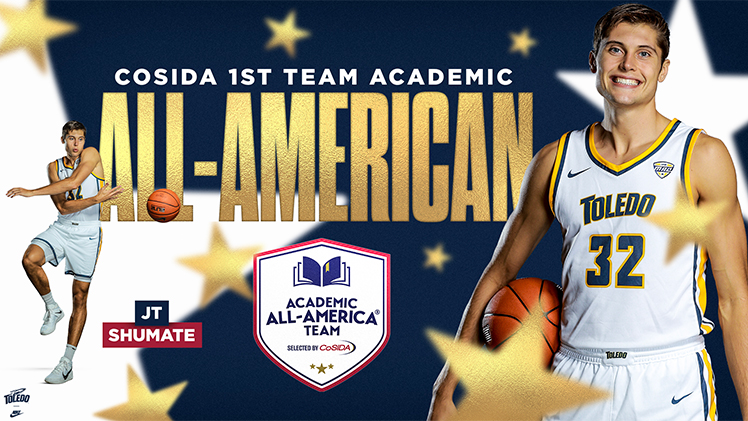 Shumate has earned first-team NABC All-District and second-team All-Mid-American Conference honors this season. He ranks second on the team with 15.5 ppg and 6.0 rpg and leads Toledo with a 57.3 FG%, a MAC-best 50.8 three-point FG% and 82.0 FT%. Shumate ranks in the MAC's Top 15 in seven statistical categories and led the conference with 1.6 bpg in league play and scored a season-high 29 points vs. Bowling Green (Jan. 15) and Central Michigan (Feb. 19).
To be eligible for Academic All-America, a student-athlete must be a varsity starter or key reserve, maintain a cumulative grade point average of 3.30 on a scale of 4.00, have reached sophomore athletic and academic standing at his current institution and be nominated by their respective sports information director.
Since the program's inception in 1952, CoSIDA has bestowed Academic All-America honors on more than 15,000 student-athletes in Divisions I, II, III and NAIA, covering all NCAA championship sports.
For more information about the Academic All-America Teams program, please visit www.cosida.com.
Toledo Basketball Academic All-Americans
Doug Hess, 1969-70 (Second team)
Mac Otten, 1972-73 (Second team)
Dave Speicher, 1975-76 (Third team)
Dave Speicher, 1976-77 (Second team)
Dick Miller, 1979-80 (Second team)
Mitch Adamek, 1981-82 (First team)
Bob Borcherdt, 1985-86 (Second team)
Casey Shaw, 1997-98 (Third team)
JT Shumate, 2021-22 (First team)