Celebrate women's history month with annual symposium March 19
---
For Women's History Month, celebrate the women of the past, present and future with the fourth annual Women of the World Symposium.
Sponsored by The University of Toledo's Catharine S. Eberly Center for Women along with many other community partners, the symposium is organized by women for women and provides educational and networking opportunities for women throughout northwest Ohio and southeast Michigan.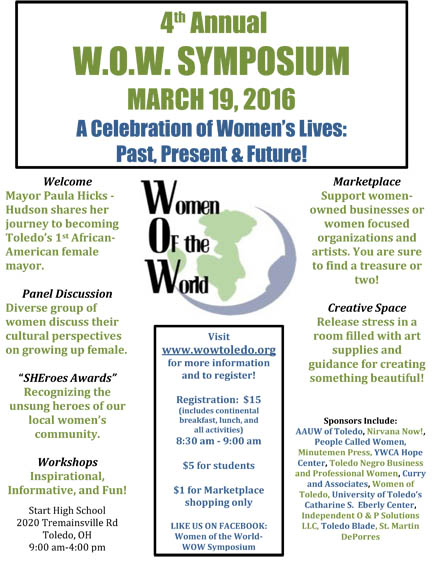 "In this event designed for and by women, attendees can expect a day dedicated entirely to the celebration of women," said Alcy Barakat, a UT alumna and member of the planning committee for the symposium. "I would encourage anyone who is thinking about coming to do so and to bring along a friend or family member for what is sure to be a fulfilling and memorable day."
The event will begin at 8:30 a.m. Saturday, March 19, at Start High School, 2020 Tremainsville Road, kicking off with registration and a continental breakfast. The Market Place also will be open and feature more than 85 different vendors — women's resources, women-owned businesses and sponsors — that will have tables set up with information, products and more.
At 9 a.m., Toledo Mayor Paula Hicks-Hudson will give a welcome address, and this year's SHEroes award winners will be recognized.
At 10 a.m., there will be a short break, followed by the first of three breakout sessions at 10:30 a.m. Lunch will be served at 11:30 a.m., followed by a panel discussion at 12:30 p.m.
Panelists will be Joni Johnson, founder of Humans of Toledo; Dr. Mahjabeen Islam, who specializes in addiction and family medicine; Afreen Alvi, a 21-year-old first-generation college student; and Ramona Collins, a jazz and blues vocalist, and songwriter and actress.
The second breakout session will take place at 1:45 p.m., followed by the final breakout session at 2:45 p.m.
This year's workshops are Caring for Your Adolescent: Navigating the Minefield of Parenting; Financial Planning; How Internet, Radio and Pod-Casting Can Help Your Small Business; Domestic Violence; Real Women, Real Stories; Do You Have a Fire in Your Belly?; Dream Life: Learn From the Past and the Present, Build Your Future; Empower Yourself in Five Easy Steps; Dance Lesson — The Hustle; Charge it Right; The Golden Circle — Learn Your Why; and Maximize Success and Satisfaction. There also is a youth track with topics like dating violence, drug abuse prevention, creative writing and emotional intelligence.
At 3:45 p.m., the event will wrap up and a raffle will be held.
To register for the event, visit wowtoledo.org. Registration for the symposium is $15 for general public and $5 for students, and it includes breakfast, lunch and access to the Market Place. For more information, visit wowtoledo.org, facebook.com/wowsymposiumtoledo, email info@wowtoledo.org or call 419.318.9705.
In addition to the Eberly Center, this year's sponsors include the American Association of University Women of Toledo, Nirvana Now!, People Called Women, Minutemen Press, YWCA Hope Center, Toledo Negro Business and Professional Women, Curry & Associates, Women of Toledo, Independent O&P Solutions LLC, The Blade, and St. Martin DePorres