'The Royal Banquet' theme of this year's International Dinner March 23
---
The International Students Association will present the 43rd International Dinner Saturday, March 23, in the Thompson Student Union Auditorium.
Doors will open at 6 p.m., and the event will begin at 7 p.m.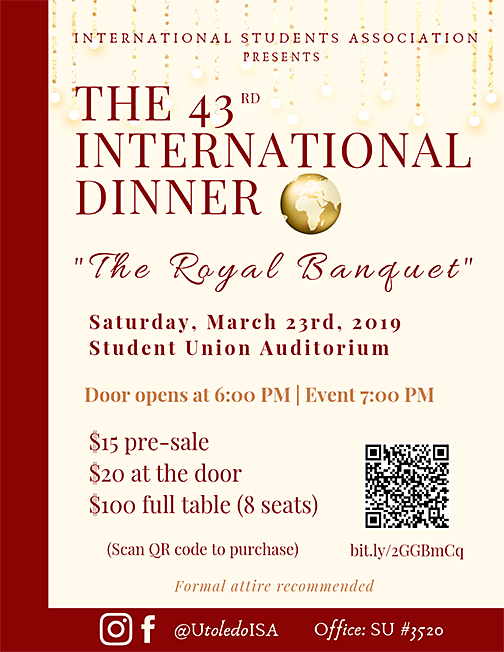 This year's theme will be "The Royal Banquet," with the colors red, purple and gold.
"International Dinner stands as one of the most prestigious international events on the University campus," Taufik Mohammad, president of the International Students Association, said. "The dinner provides our students from around the world the opportunity to showcase their culture, traditions and sense of community."
The International Dinner will feature dishes from seven restaurants.
"We have plantains, Vietnamese spring rolls, fattoush and fatayer for starters," Mohammad said. "For main dishes, we have veg biryani, chicken curry (halal), naan bread, homestyle tofu, jerk chicken (halal), chicken tacos, and veg and chicken noodles."
Dessert will include mango and strawberry cake, as well as baklava, he added.
Food won't be the only thing on the menu. There will be international performances from several organizations, including the Ethiopian Student Association, Filipino American Association, and the South American and Hispanic Student Association.
Formal attire is recommended for the event.
Tickets are $15 in advance or $20 at the door. A table of eight is $100. Go to the University Marketplace website to purchase tickets.
For more information on the event, contact the International Students Association at utoledoisa@gmail.com.