Author to discuss book on food waste
---
Journalist Jonathan Bloom traveled across the country and interviewed people about wasted food. He discovered that about half of America's harvest ends up in landfills or rots in the fields.
He documents his findings in American Wasteland: How America Throws Away Nearly Half of Its Food (and What We Can Do About It) (2010).
The UT Urban Affairs Center has invited Bloom to Toledo to give two talks.
"We think his work ties in nicely to our work on various aspects of food systems, incorporating the environmental implications, the economic losses, and the unfortunate dichotomy of hunger and waste," said Jeanette Eckert, interim research assistant at the Urban Affairs Center.
Bloom will visit the University Tuesday, March 22, to discuss his book. Space is limited at this afternoon event that will take place in the Urban Affairs Center; those interested should e-mail jeanette.eckert@utoledo.edu for information.
At 7 p.m., Bloom will give a free, public talk titled "The Food Not Eaten" at Augsburg Lutheran Church, 1342 Sylvania Ave., Toledo.
"My research on food waste stemmed from a background of enjoying and valuing food," Bloom said. "The more I learned about how much we squander, the more I wanted to shed light on our astonishing wastefulness."
"Our goals in inviting Mr. Bloom to speak include getting everyone who is interested in food around the same table, so to speak," Eckert said. "Wasted food is certainly an issue that anti-hunger groups, environmentalists, and those working to strengthen our local food system can work on collaboratively.
"We also hope that people will be enlightened as they hear not just about how much food we waste, but about the reasons why it happens and the simple, everyday things we can all do to bring that number down, from simple tips for the household to things like composting and gleaning."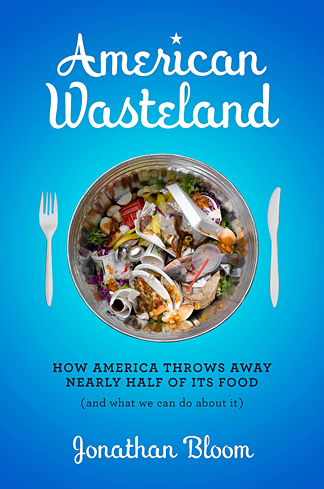 In the book, Bloom wrote that Americans pitch enough food every day to fill the Rose Bowl, and that adds up to about 160 billion pounds annually.
"It's important to trim our food waste because it has an environmental, ethical and economic impact," Bloom said. "There are a tremendous amount of resources — mostly oil and water — embedded in our food. When we waste, we squander those resources and they go for naught.
"Plus, it's morally callous to waste as much as we do when so many Americans don't get enough to eat. And we, as a country and as individuals, would be in a better place if we saved a few bucks by not wasting food."
Bloom's visit is part of a speaker series made possible by support from the U.S. Department of Agriculture's National Institute of Food and Agriculture, with help from local sponsors.
Listed by date, upcoming events include:
• Tuesday, March 29 — A talk with John Riehm of Riehm Farms in Tiffin, Ohio. He will discuss community-supported agriculture and the importance of fresh, local produce at 4:30 p.m. in the Clean and Alternative Energy Incubator, 2600 Dorr St.
• Friday, April 15 — A conference on "Local Food: Strategies for Jobs and Health." Sessions will cover entrepreneurial opportunities, planning and land use, health and hunger, and federal and local policy. Details, including registration information, are at uac.utoledo.edu/localfood/localfoodstrategies.htm. The event will be held from 8 a.m. to 5 p.m. in the Dana Conference Center on Health Science Campus. Cost is $20 and $5 for students and includes lunch.
For more information on these events, contact Eckert at 419.530.6048 or jeanette.eckert@utoledo.edu.