Parent activist brings emotional anti-bullying message to UT
---
Ty Field-Smalley was a happy and cheerful boy who always had a smile on his face. But Ty was small for his age, and that made him an easy target for bullies.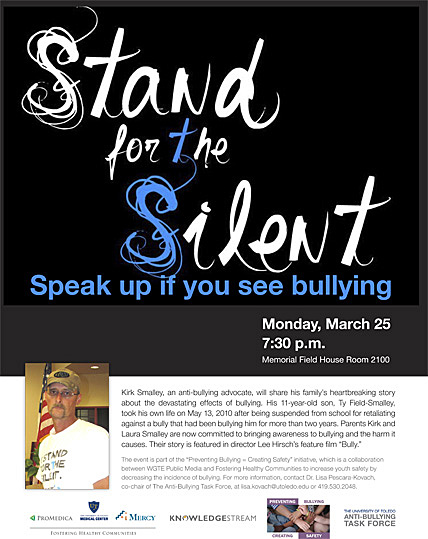 On May 13, 2010, at the age of 11, Ty took his life after being suspended from school for retaliating against a bully who had been picking on him for more than two years.
Ty's dad and mom, Kirk and Laura Smalley, have made it their mission to bring awareness about bullying and the devastating harm it causes.
"Laura and I try to teach all these kids that they are somebody, that they can make a difference in our world, that everyone has a right to be who they are and be themselves," Kirk Smalley said. "If we save one baby, if we stop this from happening to one other family, it's worth everything that we can do, everything we have to give to make that happen."
Smalley will share his emotional story at 7:30 p.m. Monday, March 25, in Memorial Field House Room 2100 at The University of Toledo. The event is free and open to the public.
As part of his mission to eradicate bullying, Smalley through his Stand for the Silent organization has given presentations at more than 600 schools, touching more than 650,000 students and educators in the last year. There now are more than 370 Stand for the Silent chapters that work to spread the message that everyone deserves to feel loved, included and treated with respect.
The Smalleys' story is featured in director Lee Hirsch's feature documentary film "Bully" that pushes us to look past the "kids will be kids" attitude and realize the serious issue impacting young people and their families.
CNN also included Smalley in its "The Bully Effect: An Anderson Cooper Special" that premiered Feb. 28 on Anderson Cooper 360.
"Kirk and Laura are so brave to share their heartbreaking story with The University of Toledo and schools everywhere in an effort to save other families from such a painful loss," said Dr. Lisa Pescara-Kovach, UT associate professor of educational psychology and author of School Shootings and Suicides: Why We Must Stop the Bullies. "Bullying is a serious issue that impacts all of society. We need to get past this idea that bullying is a harmless rite of passage and see it for what it is — a public health issue that leads victims to internalize or externalize, at times, to the point of suicides and targeted violence like school shootings."
"Those who perpetrate bullying need assistance as well," added Kovach, who co-chairs the UT Anti-Bullying Task Force with UT Police Chief Jeff Newton. "It's a must to get to the root of the bullying in an effort to eradicate the behavior and prevent the individual from using similar tactics in adulthood."
The Stand for the Silent event at UT is part of the larger Preventing Bullying = Creating Safety collaborative effort of WGTE Public Media and Fostering Health Communities, which is a joint effort among Mercy, ProMedica and the UT Medical Center. The yearlong initiative, which launches this spring, focuses on increasing youth safety by decreasing the incidence of bullying.
Preventing Bullying = Creating Safety is a comprehensive public information campaign through TV, radio, print and the web: three live town hall television programs on WGTE TV; videos for classroom use; three workshops for educators; and a website with resources for parents, students and educators. Visit preventingbullying.org for more information.
For more information about Stand for the Silent, visit standforthesilent.org.