Re-Energize at Earth Hour celebration March 25
---
As energy usage and climate change become more urgent and prevalent topics, conservationists are looking for ways to draw attention to these issues.
The Society of Environmental Advocates invites the UT community to its Earth Hour celebration, which is a global event where at least one hour is set aside to bring awareness to energy conservation.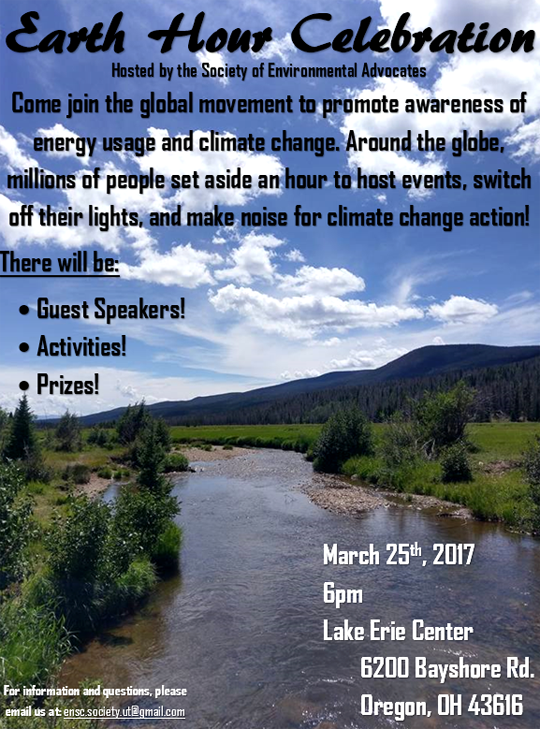 The event will be held Saturday, March 25, at 6 p.m. at the Lake Erie Center, 6200 Bayshore Road, Oregon.
Speakers at the event will include Melissa Greene, director of the Toledo-Lucas County Sustainability Commission and sustainability coordinator for the Board of Lucas County Commissioners, and Michael Green, director of energy management for The University of Toledo.
After presentations by the guest speakers, attendees will tour the Lake Erie Center and, weather permitting, take a short nature walk.
Alex Lytten, president of the Society for Environmental Advocates, said that the event promotes the organization's message of sustainability and conservation, and that membership is open to anyone who shares an interest in environmental science, geology, ecology and biomes.
To daily reduce your energy usage, Lytten recommends: "Turning down your thermostat, turn off unused lights and appliances, invest in energy-efficient lighting and appliances, and carpool whenever possible."
For more information, contact ensc.society.ut@gmail.com.