2016 Shapiro Essay Revision Contest winners announced
---
The 27th annual Shapiro Essay Revision Contest attracted nearly 200 undergraduate participants from almost every academic major for the 2016 event.
Contest judging has ended, and 15 winners were selected: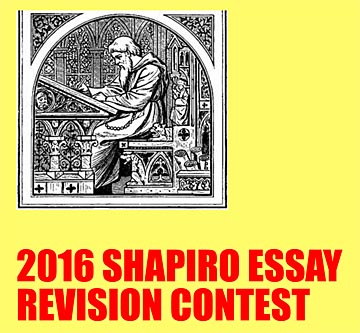 • Jeanette M. Cornwall, senior English major, $500;
• Kayle K. Elliot, senior psychology major, $400;
• Elissa Vaitkus, junior sociology and women's and gender studies major, $300;
• Hedyeh Elahinia, freshman biology and neurology major, $200;
• Luke R. Skowronek, freshman education major, $100;
• Melody Beerbower, sophomore English major, $75;
• Araceli Gutierrez, freshman nursing major, $75;
• Sara K. Hochadel, sophomore chemical engineering major, $75;
• Anne M. Jennings, junior special education major, $75;
• Olivia Krupp, junior health-care administration major, $75;
• Mackenzie Miller, senior music major, $75;
• Celine M. Schreidah, freshman biochemistry major, $75;
• Ashley Teow, senior biology major, $75;
• Andrea A. Tsatalis, junior biology major, $75; and
• Anna I. Wagenhauser, sophomore psychology major, $75.
"We wish to thank all students who participated, and we will see you again next year," said Dr. Deborah Coulter-Harris, coordinator of the contest and associate lecturer of English. "We also wish to thank our faculty for serving as monitors, judges and advertisers; this is a true collegial effort."
The Shapiro Writing Contest is named for and supported by funds established by Dr. Edward Shapiro, professor emeritus of economics, who retired from The University of Toledo in 1989 after 22 years of service. After receiving a bachelor's degree in economics from UT in 1942, he went on to obtain a master of arts degree from Ohio State University and PhD from Harvard. Shapiro donated this money to recognize and reward future UT students in what he regarded as the craft of good writing.