Symposium to focus on vascular, endovascular interventions
---
The UT Division of Vascular and Endovascular Surgery and Toledo Hospital's Jobst Vascular Center will present the Ninth Vascular and Endovascular Interventions Symposium Thursday and Friday, April 15 and 16.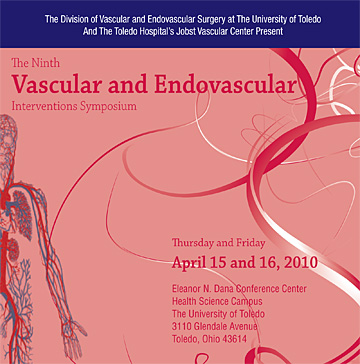 The conference will take place in the Dana Conference Center on Health Science Campus.
Leaders in the field of vascular surgery will discuss advances in vascular and endovascular interventions and noninvasive evaluation of vascular disease.
The two-day conference is designed to bring updates to health-care professionals who deal with vascular disease; these include vascular surgeons, general surgeons, radiologists, cardiologists, internists, nurses, vascular laboratory technologists, and residents in general surgery, vascular surgery and cardiology.
Costs for UT and ProMedica Health System faculty, staff and allied health-care professionals are $100 for both days or $75 for one day. For physicians, the cost is $150 for two days and $100 for one day.
Registrations are requested by Thursday, April 1. For more information on the symposium and continuing medical education credits, go to cme.utoledo.edu and look under "upcoming events."
For more information, contact Becky Roberts at 419.383.4237 or becky.roberts@utoledo.edu.