First be-Wise-er event to promote smart decisions April 5
---
The Alpha Kappa Psi Chapter at The University of Toledo College of Business and Innovation is presenting an event to combat substance abuse.
Called be-Wise-er, it will take place Tuesday, April 5, at 7:30 p.m. in the Student Union Auditorium.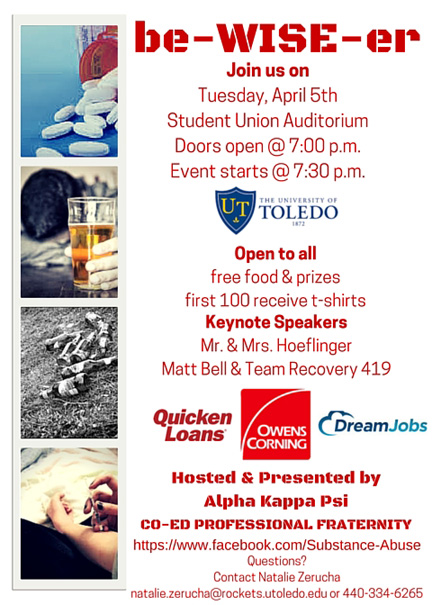 "All it takes is one sip, one time and one night to end your world," said Natalie Alexandra Zerucha, awareness and safety chair of the UT College of Business and Innovation's Alpha Kappa Psi Chapter. "We want all students to simply 'be wiser' about their choices."
She added that she worked with numerous departments at the University in setting up this event.
"Sgt. Tressa Johnson, a lieutenant with the UT Police Department, said she is happy to see another big event taking place like this on campus," Zerucha said. "And I was fortunate enough to get a call from Brian Hoeflinger only a few hours after sending him an email. To me, he's a local star. A great father and neurosurgeon, he has been on many talk shows; he and his wife use their personal experience of losing their 18-year-old son three years ago as a life-learning lesson for college students who think they are invincible."
She said this is the first year for the program, which she hopes will become an annual event.
"We're not here to judge," Zerucha said. "We're here to tell our fellow classmates that we want them to get the dream job that they came to college to get an education for. However, we hope the people that we asked to join us will be a reminder that anything can happen."
The free event is open to all UT students as well as the public. Doors will open at 7 p.m. with free food and prizes.
Alpha Kappa Psi is the oldest and largest professional business fraternity.