UT Medical Center ranks highly in 'door-to-balloon' cardiac care
April 1, 2009 |
News
By Shannon Wermer
---
Quick treatment is crucial in surviving a heart attack, and The University of Toledo Medical Center is one of the fastest. According to recent statistics, UTMC ranked 45 out of 857 U.S. hospitals in 2008 for its "door-to-balloon" (D2B) time with STEMI heart attack patients, placing it in the 96 percentile.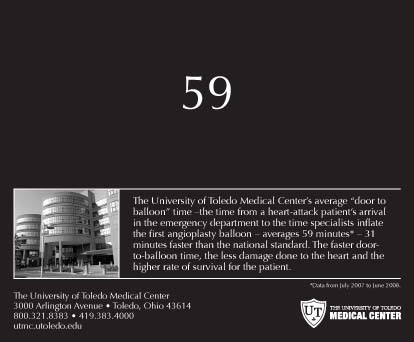 D2B time is a measurement used in emergency cardiac care. The interval starts when the patient arrives in the Emergency Department and ends when the first angioplasty balloon is opened, improving blood flow in vessels that have been narrowed or blocked.
Door-to-balloon is a program launched by the American College of Cardiology to save time and save lives by reducing D2B times in U.S. hospitals. According to Lori Beck, data control technician, UTMC joined this initiative in March 2007. At that time, its D2B average was 110 minutes.
The American College of Cardiology and the American Heart Association guidelines recommend a door-to-balloon interval of no more than 90 minutes. Damage to the heart is greatly increased after this time because of oxygen deprivation.
Dr. Christopher Cooper, professor and chief of cardiology, set a goal of 60 minutes for UTMC for 2008. After implementation of evidence-based strategies suggested by the American College of Cardiology, UTMC had an average D2B time of 59 minutes from July 2007 to June 2008, down from the previous average of 70 minutes. Beck believes UTMC is so successful due to close relationships among emergency medical services, emergency room and catheterization lab personnel.
To learn more about door-to-balloon time at UTMC, contact Beck at 419.383.6062 or e-mail lori.beck@utoledo.edu.