Events planned for 100 Hours of Astronomy celebration
---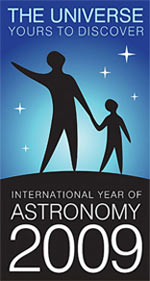 To mark the 400th anniversary of the year Galileo used a telescope to study the sky, The University of Toledo Department of Physics and Astronomy will participate in the international 100 Hours of Astronomy celebration.
The celebration is part of the International Year of Astronomy 2009, a global effort started by the International Astronomical Union and UNESCO to help people rediscover their place in the universe.
Events slated at UT will be:
Thursday, April 2
7:30 p.m. — Talk by Dr. Reva-Kay Williams, UT visiting assistant professor of physics, about "Astrophysical Black Holes and Energy Extraction" in the Ritter Observatory on Main Campus.
Friday, April 3
7:30 p.m. — Regular Planetarium program, "The Spring Skies Over Toledo," followed by a public observing at Ritter Observatory.

Saturday, April 4
11 a.m. — Toddler Discovery Time: A live, interactive program developed by Meredith Gray-Fischer, UT community and technology specialist, designed for 2-, 3- and 4-year-old children.
1 p.m. — Regular Ritter Planetarium program, "Field Trip to the Moon."
2 p.m. — Solar observing with the new Sunspotter telescope.
3 p.m. — Workshop on "How to Buy a Telescope" presented by Planetarium Associate Director Alex Mak. Admission for this event will be $10.
6:30 p.m. — Drs. S.T. Megeath and John-David Smith, UT astronomy faculty, will discuss their involvement with the new Herschel Space Observatory to be launched by the European Space Agency later this month. Their talk, "Blastoff Into the Cold Universe: Observing the Origins of Stars and Galaxies With the Herschel Space Observatory," will look at how Herschel, the largest telescope mirror ever flown, will observe the universe in infrared from a vantage point of one million miles from Earth. Lecture will be followed by observing with the 1-meter telescope at Ritter Observatory.
Sunday, April 5

6:30 p.m. — The Ritter Astrophysical Research Center Open House will feature a special series of talks by UT astronomy faculty and graduate students, an informal question-and-answer session, and an insider's tour of Ritter Observatory.
All events are free and open to the public unless otherwise noted.
Observing sessions are weather-permitting.
For more information, visit the Ritter Planetarium-Brooks Observatory Web site: http://astro1.panet.utoledo.edu/~ndm/RPBO/hundred-hours.html.