Six Toledo swimmers named to Academic All-MAC Team
---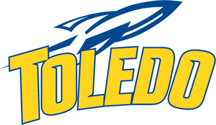 Six University of Toledo swimmers have earned Academic All-Mid-American Conference honors for the 2011-12 season.
The number of UT student-athletes to earn the distinction was the second-most of all MAC schools.
The Rockets who were named to the MAC All-Academic team were:
• Claire Leichty, senior, special education major, 3.692 GPA;
• Louise Smyth, senior, marketing major, 3.682 GPA;
• Carly Harter, junior, education major, 3.563 GPA;
• LesLee Winfield, junior, communication major, 3.735 GPA;
• Rachel Johnson, sophomore, business major, 3.396 GPA; and
• Christina Noens, sophomore, special education major, 3.588 GPA.
Seven additional Toledo swimmers earned Academic Honorable Mention accolades from the committee. They are: Kristen Clemmons (physical therapy, 3.358 GPA), Ellen Dzierzak (exercise science, 3.880 GPA), Meredith Gibbon (speech pathology, 3.717 GPA), Nicole Schropp (education, 3.308 GPA), Kirsten Smith (education, 3.639 GPA), Gillian Staudt (exercise science, 3.399 GPA) and Kayla Wiemers (early childhood education, 3.892 GPA).
"This is a great honor for all these girls," said Head Coach Liz Hinkleman. "It shows their hard work and dedication to both academics and athletics, and that is something we really emphasize in our program."
To qualify for the Academic All-MAC honor, a student-athlete must have at least a 3.20 cumulative GPA and have participated in at least 50 percent of the contests for that particular sport. First-year students and junior college transfers in their first year of residence are not eligible for the award. Outstanding academic and athletic accomplishments for the current season are considered.