UT African Peoples Association to host cultural event
---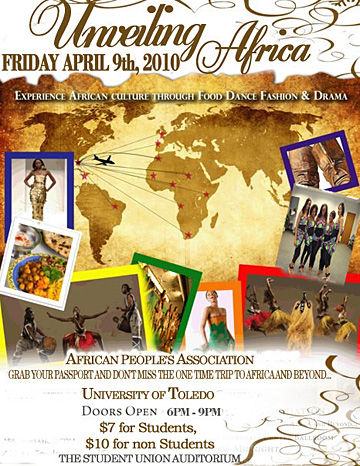 Interested in trying new things? Or better yet, a new culture?
The University of Toledo's African People's Association will host its third annual event titled "Unveiling Africa, a Night of Cultural Entertainment" Friday, April 9, from 6 to 9 p.m. in the Student Union Ingman Room on Main Campus.
Members of the UT community and Toledo area residents are encouraged to come out and get a taste of African culture through food, dance, fashion and drama.
"We will have food from all parts of Africa and even the Caribbean," said Kadie Jalloh, PR representative for the African People's Association. "There will also be singers, fashion, dancers and short dramas that portray the African culture."
Numerous venders will come in and show items such as jewelry that will be available for purchase as well.
Tickets for the event are $7 for students and $10 for non-students.
"If students would like to set aside tables to sit at amongst friends and family, they can also purchase a table," Jalloh said. "Table prices for students are $50 and for non-students $75."
For more information on the event or tickets, contact apaeboard09@gmail.com.