Book it: UT events slated to honor National Library Week
---
UT Libraries has scheduled several events to celebrate National Library Week, April 10-16.
This year's theme is "Libraries Transform." Across the country, libraries will highlight the role they play in changing people's lives.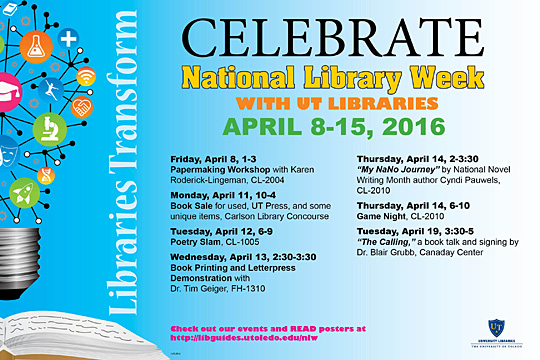 "University Libraries is proud to once again celebrate National Library Week with an exciting series of events," Barbara Floyd, interim director of University Libraries, said. "At a time when many of our patrons use our resources without ever coming into the library, these events are a chance to remind students and faculty that the library is more than just resources they can access from their computer.
"The library continues to be a place where ideas are discussed, where creativity happens, and where lives are transformed," Floyd, professor and director of the Ward M. Canaday Center for Special Collections, said.
Listed by date, events will be:
• Friday, April 8 — Papermaking Workshop, 1 to 3 p.m., Carlson Library Room 2004. Karen Roderick-Lingeman, senior lecturer in the UT Art Department, will demonstrate how to make handcrafted paper. Space is limited; sign up for the workshop at the circulation desk or email david.remaklus@utoledo.edu.
• Monday, April 11 — Book Sale, 10 a.m. to 4 p.m., Carlson Library Concourse. Used books, books published by UT Press and more will be for sale, cash only. Sales will benefit the library's acquisitions funds.
• Tuesday, April 12 — Poetry Slam, 6 to 9 p.m., Carlson Library Room 1005. There will be featured readers from Toledo Poet, Adams Street Slam, and Developing, Enhancing and Empowering Poets, and anyone is invited to share his or her work at the open mic.
• Wednesday, April 13 — Introduction to Fine Bookmaking and Letterpress Demonstration, 2:30 to 3:30 p.m., Memorial Field House Room 1310. Timothy Geiger, UT professor of English and poet, will lead the presentation.
• Thursday, April 14 — "My NaNo Journey" by National Novel Writing Month author Cyndi Pauwels, 2 to 3:30 p.m., Carlson Library Room 2010. She wrote her debut novel, Forty & Out, during NaNoWriMo 2006. The crime fiction work is set in the Toledo area, where Pauwels lived until 2004. Her writing credits include Historic Warren County: An Illustrated History, several anthologized essays and numerous short stories. Pauwels is the assistant director of the Antioch Writers' Workshop and teaches composition at Antioch University Midwest in Yellow Springs, Ohio.
— Game Night, 6 to 10 p.m., Carlson Library Room 2010. Stop by to compete in Magic the Gathering, euchre and Super Smash Bros. tournaments, or play board and video games.
• Tuesday, April 19 — Book Discussion and Signing, 3:30 to 5 p.m., Canaday Center. Dr. Blair Grubb, Distinguished University Professor of Medicine and Pediatrics at The University of Toledo, will talk about his book, The Calling, which explores bonds between physicians and their patients.
For more information on UT's celebration of National Library Week, go to http://libguides.utoledo.edu/nlw.