UT president, Toledo mayor to speak at International Student Association Dinner
---
Diversity Month and the international community's importance to the University will be the topic of UT President Sharon L. Gaber's keynote speech at the International Students Association Dinner Saturday, April 9.
This year's theme is "40th I-Dinner: The Ruby Anniversary — A Touch of Red," and the dress code is formal with a touch of red.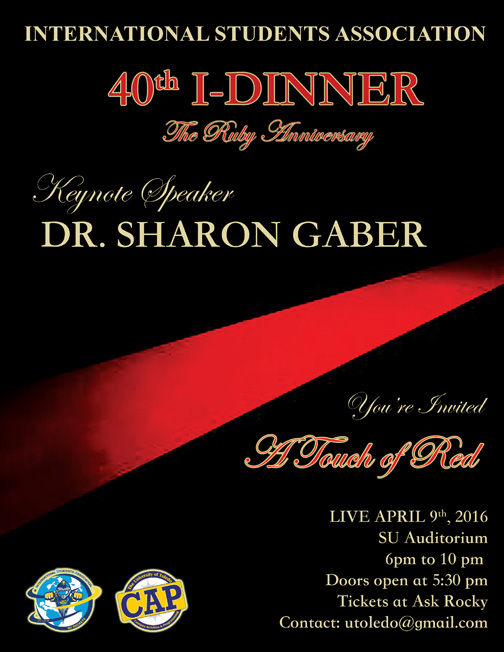 Doors will open at 5:30 p.m. for guests to visit the International Students Association Museum and take pictures in the Hall of Fame. The event will begin at 6 p.m. in the Student Union Auditorium.
In addition to Gaber's speech, attendees will see 12 cultural presentations and hear Toledo Mayor Paula Hicks-Hudson give a proclamation from the city of Toledo for all international students.
To celebrate its 40th anniversary, the International Students Association will present Gaber with the Heritage Collection: "40 Years of International Students at UT Exhibition," a collection of photographs that will be permanently on display in Carlson Library.
Nine different types of cuisines will be represented at the dinner: Brazil, Africa, China, India, Saudi Arabia, Italy, Iran, Nepal and Lebanon. All of the food will come from restaurants in the Toledo area.
The evening will conclude with a fashion show spotlighting trends from 35 countries.
Tickets are $15 in advance and $20 at the door. A table of eight costs $100, and children 3 and younger are free. To purchase tickets, visit Ask Rocky in the Student Union.
Seating is limited to 500 and nearly sold-out, according to International Students Association Vice President Alessandra Krusciel de Moraes.
For more information, contact utoledo@gmail.com.