Department of World Languages and Cultures to host celebration week
---
The Department of World Languages and Cultures will host a week of events to celebrate its new name and to have fun with different languages Monday through Thursday, April 9-12.
"These events are important because linguistic and cultural knowledge is more and more important in the global culture and economy," said Dr. Ruth Hottell, chair and professor of the Department of World Languages and Cultures. "We want to let people know of the importance of studying languages and cultures, and also of the fun you have studying languages."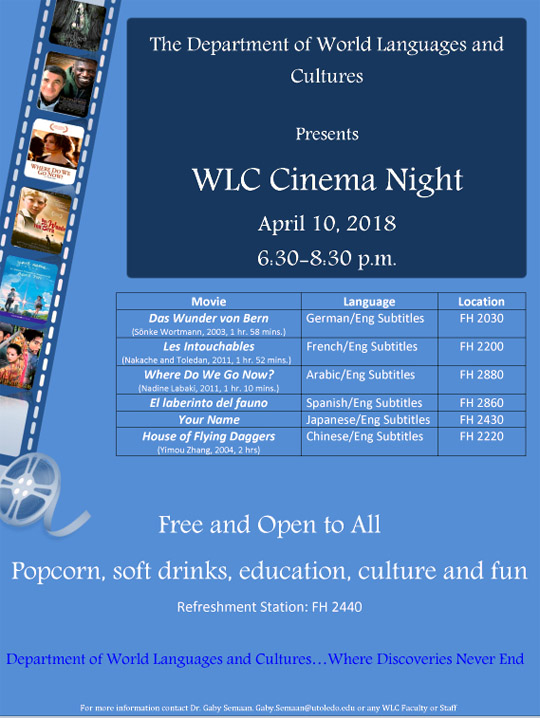 The celebration will kick off with a ribbon-cutting ceremony Monday, April 9, at noon in Memorial Field House Room 2420. Charlene Gilbert, dean of the College of Arts and Letters, and Provost Andrew Hsu will speak at the event.
Immediately following the ceremony, "Taste of the Middle East" will take place at 12:30 in the same room. Attendees will have the chance to sample Middle Eastern food from area restaurants, including Oasis Mediterranean Cuisine, Phoenicia, The Beirut Restaurant, Middle East Market, The Oasis, and Almasri Sweets of Dearborn, Mich.
Listed by date, other scheduled events for the week will be:
• Tuesday, April 10 — Tea break with faculty members from the department, 3 p.m., Memorial Field House Room 2440.
— Cinema night, 6:30 to 8:30 p.m., in various rooms of the Memorial Field House. See schedule outside room 2440 for films and rooms. Attendees will be able to choose between films in Arabic, Chinese, French, German, Japanese or Spanish. All films will have English subtitles.
• Wednesday, April 11 — Open-class day. Students will have the opportunity to visit and sit in on a class in Arabic, French, German, Japanese or Spanish.
— Board games, 4 to 6 p.m., Memorial Field House Room 2440.
• Thursday, April 12 — International karaoke and dancing night, 5 to 7 p.m., Memorial Field House Room 2420. There will be music, dance and karaoke activities from all of the language programs.
Hottell said students should attend the events to get to know the faculty and staff in the department, to have fun and celebrate, and to help prepare for a future career.
"Knowing other languages opens up a whole new world of adventures and fun," Hottell said. "Also, knowing other languages greatly improves your chances of getting good jobs and higher wages."
Campus sponsors for the week of events are the College of Arts and Letters, the Office of the Provost, the School of Interdisciplinary Studies, the Office of Undergraduate Admission, and Arabesque.
For more information, contact Dr. Gaby Semaan, director of Middle East studies and assistant professor of Arabic, at gaby.semaan@utoledo.edu.