UT professor to discuss 'Sufism: The Kaleidoscope of the Soul'
---
Sufism: The Kaleidoscope of the Soul" is the topic of the annual Imam Khattab Lecture on Islamic Thought.
Dr. Ovamir Anjum, UT Imam Khattab Endowed Chair of Islamic Studies, will give the
free, public lecture Tuesday, April 10, at 7 p.m. in the Law Center McQuade Auditorium.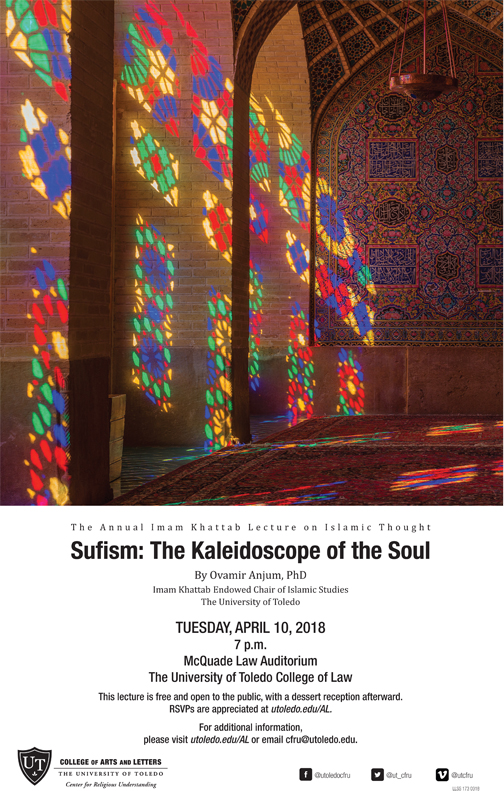 Sufism is the mystical belief and practice in which Muslims seek to find the truth of divine love and wisdom through their direct personal experience of God. It emphasizes the inward search for God and shuns materialism.
"Sufism has a universal language that speaks to everyone, and it has a universal concern, that of how to relate to the totality of existence, to the ultimate reality and to the ordinary reality, in other words, to God and God's creation," Anjum said. "It also has a universal language, that of art, poetry and beauty at large, which can help everyone, regardless of what religion or tradition they profess, to find deeper meaning in life."
The event is part of the UT Center for Religious Understanding's annual lecture series, which has been active for more than a decade. The center promotes a deeper understanding of religion on campus and throughout greater Toledo.
"I will share some specific instances of Sufi wisdom, such as the poetry of Rumi and words of the inimitable woman, the lover of the divine, Rabi'a of Basra," Anjum said.
RSVPs are appreciated: utoledo.edu/al.