Celebrate 150 Years of UToledo Today on Day of Giving
---
The University of Toledo's fifth annual Day of Giving has officially arrived, offering Rockets everywhere a chance to support the students, colleges and programs they care about during the University's sesquicentennial year.
The 36-hour campaign kicked off at 6 a.m. Wednesday, April 6, and ends at 6 p.m. Thursday, April 7.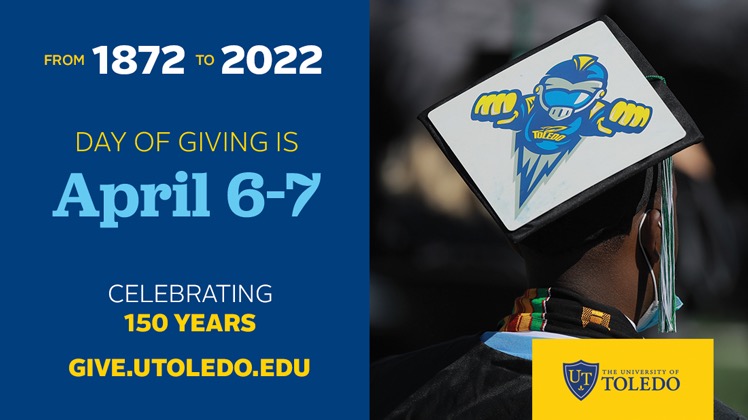 Participation is a primary goal of Day of Giving and UToledo alumni, faculty and staff members, students and supporters around the world are encouraged to show their generosity during each campaign. The target this year is for 3,500 donors to help fuel tomorrows for everyone on UToledo's campuses in any gift amount they choose to donate.
Learn more about this year's campaign or make a gift at give.utoledo.edu.
Events taking place today connected to the campaign include the Toledo Mud Hens' 6:35 p.m. home game against Rochester, where a portion of ticket purchases will support Day of Giving. These special tickets must be purchased online.
Local businesses also are lending their support to the campaign. During today's regular business hours, customers at Toledo locations of The Blarney Irish Pub, Campus Pollyeyes, The Casual Pint, Home Slice Pizza, Jake's Saloon, Jed's Bancroft, Rick's City Diner and Table Forty 4 have the opportunity to make a campaign donation while making a purchase.
Gifts may be designated to any of the more than 2,000 University of Toledo Foundation funds available, supporting the causes and programs Rockets care about most. Every donor and every dollar will make a difference in support of scholarships, athletic and educational programs, research, healthcare and community services.
Supporters are encouraged to use #RocketForward on social media throughout the campaign to share their UToledo spirit, spread the impact of Day of Giving and highlight the students, programs or colleges about which they're most passionate.