League-Best 4 Rockets Named to Men's Academic All-MAC Team
---
Four members of The University of Toledo men's basketball program have been named to the 2022-23 Academic All-Mid-American Conference Men's Basketball Team, the league office recently announced.
The Rockets ranked first in the conference with four honorees with junior RayJ Dennis (Plainfield, Illinois), junior AJ Edu (Colchester, England), senior JT Shumate (Newark, Ohio) and sophomore Elijah Wilson (Lithonia, Georgia.) four of the 17 student-athletes recognized by the MAC.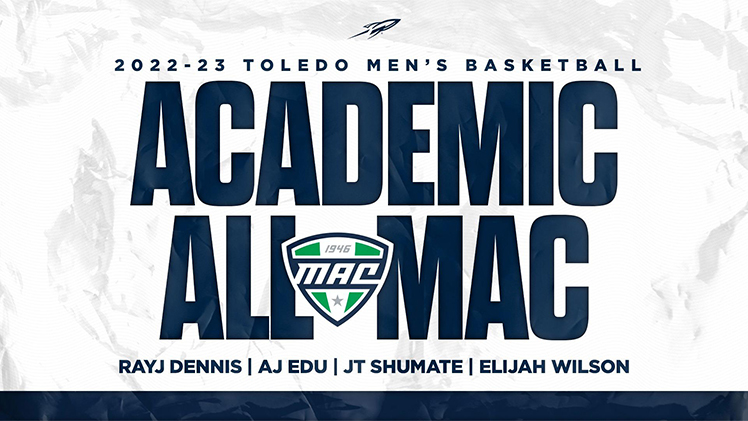 Dennis, who possesses a 3.20 grade point average in University Studies, was a unanimous selection for MAC Player of the Year as well as a first-team All-MAC honoree. He ranked second in the MAC with 19.5 ppg and also was first in the league with 5.8 apg and a 3.0 assist/turnover ratio. Dennis ranked second in school history with 683 points and third with 202 assists.
Edu has a 3.54 grade point average in graduate school and is working towards his MBA in administration. He played in all 35 games after playing in just four games over the last three seasons due to knee injuries. He averaged 2.8 ppg and 3.0 rpg and ranked second on the team with 28 blocked shots.
Shumate holds a 3.84 grade point average in middle childhood education and became the third Rocket in any sport to receive CoSIDA First-Team Academic All-America honors on two occasions earlier this spring. Shumate earned first-team All-MAC honors this season and ranked third on the team with 16.0 ppg. He led the Rockets with 1.2 bpg and an 86.7 free-throw percentage. Shumate ranks first in program history in career marks with a 43.7 three-point FG% and an 84.1 FT%. He also ranks fifth all-time with a 55.4 FG% and 117 blocked shots.
Wilson holds a 3.54 grade point average as a pre-business major.
The Academic All-MAC honor is for student-athletes who have at least a 3.20 cumulative GPA and have participated in at least 50 percent of the contests in their sport.