UT's Color Run slated for April 9 postponed due to weather [updated]
---
With snow and cold in the forecast, the Color Run scheduled for Saturday, April 9, at The University of Toledo has been canceled.
The 5-K race will be rescheduled, but a new date has not yet been decided.
According to Color Run organizers, "Current weather conditions in Toledo make for dangerous travel conditions and unsafe running surfaces. The safety of our participants and staff members is our No. 1 priority, followed by our strong desire to have each of you experience The Happiest 5K on the Planet. Unfortunately, the weather is not cooperating to make either of those happen. Working closely with city and venue officials, we have made the decision to postpone the Color Run Toledo."
Look for updates at https://thecolorrun.com/locations/toledo.
*****
Grab your running shoes and get ready to sweat because the happiest 5K on the planet is coming to The University of Toledo Saturday, April 9.
The Color Run will begin at 10 a.m. in the Flatlands near the Academic House and end by the tennis courts at noon. Snacks, food vendors, a music festival and color splash will all follow the race.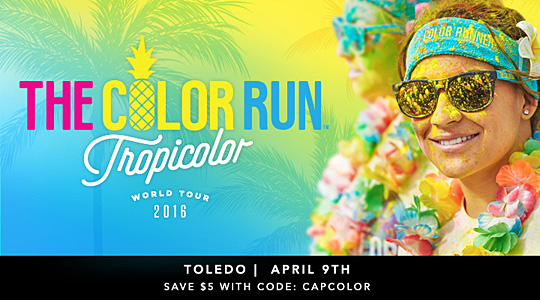 All community members are encouraged to participate in the event, which is a first for the University. Nearly 4,000 participants are expected.
"The Color Run normally [is held] in downtown Toledo, but I thought it would be a great opportunity to engage the Toledo community members and the campus community together and have the event on our beautiful campus," said Joe Lepone, a graduate assistant in the Office of Student Involvement and Leadership, who organized the event.
Classic registration includes race entry and a participant kit and costs $39.99. To save $10 on registration, use the promo code UTCOLOR. Pre-registration is available at http://j.mp/ToledoUT.
Race-day registration is also available, but the price at that time will be $50 per person.
Proceeds from the event will go to Mercy Children's Hospital.
For more information, contact Kelsey O'Brien at kelsey.obrien@rockets.utoledo.edu.