RockeTHON Miracle Week
---
New this year, RockeTHON will host Miracle Week starting Monday, April 11, and going to Friday, April 15.
This week, Centennial Mall will be filled with activities for all students, faculty and staff at The University of Toledo.
All funds raised will go to Mercy Children's Hospital in downtown Toledo.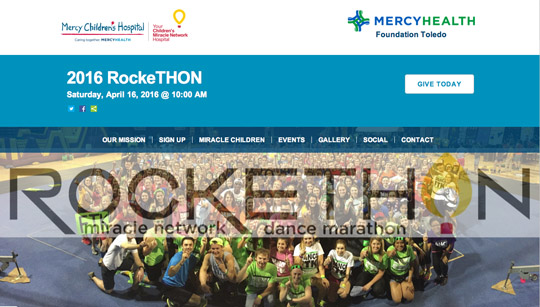 The schedule is as follows:
• Monday, April 11 — Pick a duck out of the pond for a prize, take a picture with the Instagram board, and learn more about the mission of RockeTHON. #MiracleMonday
• Tuesday, April 12 — Play giant Twister, pie your favorite RockeTHON exec member in the face, and play yard games such as ladder ball and corn hole. #TeamSpiritTuesday
• Wednesday, April 13 — Donate money to "Stop the Bop." There also will be a squirt gun race and yard games. #WhyIDanceWednesday
• Thursday, April 14 — See who will be sitting in the dunk tank, and donate money to make a friend wear a lime green balloon all day. Dogs from the Toledo Area Humane Society will be on campus to play with, and there will be yard games as well as trash splash. #ThrowbackThursday #RockeTHONThursday
• Friday, April 15 — Rest day before RockeTHON, which will take place Saturday, April 16, from 10 a.m. to 11 p.m. in Savage Arena. Be sure to follow @UTRockeTHON for updates, tips and activities. #FueltheFlameFriday
All events will run from 10 a.m. to 4 p.m. with the exception of the dunk tank, which will run from 10 a.m. until 2 p.m. and the Pet-a-Puppy, which will run from 11 a.m. until 2 p.m.
Every day there will be information about RockeTHON, how to sign up, and opportunities to donate.
For more information about RockeTHON, visit rockethon.org.