RockeTHON to raise thousands for Mercy Children's Hospital April 16
---
Since 2001, the 13-hour RockeTHON dance marathon has brought together students, faculty, family and friends to raise hundreds of thousands of dollars for Mercy Children's Hospital in downtown Toledo.
This year's event will be held Saturday, April 16, from 10 a.m. to 11 p.m. in Savage Arena, and more than 1,300 people are expected to attend.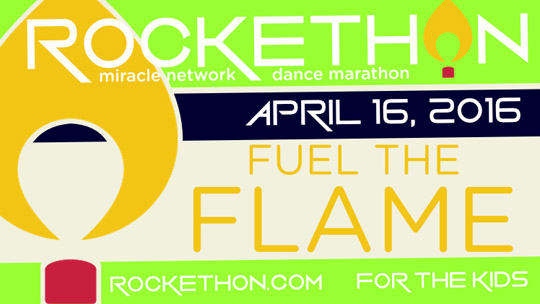 In 2015, over $106,000 was raised, and since its beginning at The University of Toledo, RockeTHON has raised more than $700,000 for Mercy Children's Hospital.
The RockeTHON committee set the bar even higher for 2016 with a goal of raising $130,000 throughout the year for Mercy Children's Hospital. In the last 12 months, a number of big fundraising events have taken place to help reach this goal: the FT5K, a 5K run/walk, 16K1Day, a 24-hour event that brought in $23,592, a Miracle Banquet for faculty, staff, alumni and community members, and various other fundraisers put on by campus organizations.
Throughout RockeTHON, there will be stage entertainment, including Miracle Family highlights, inflatables, five different dress themes and a photo booth. Participants also can ride a mechanical bull, compete in basketball and dodge ball tournaments, get Henna tattoos, and have a chance to win one of the special giveaways at the end of the night.
Sean Reck, a senior majoring in chemical engineering and overall director of RockeTHON, added that there will be extra surprises throughout the event on top of what has been announced.
"I attended my first Dance Marathon two years ago, and I fell in love with its success and potential, but most importantly who it was for," Reck said. "Raising money for the kids and working hard to challenge other community members to do the same – that's what I'm here for."
Students, alumni, faculty, staff and community members are all encouraged to participate.
For more information or to register for RockeTHON, visit rockethon.org and click "Give Today."