Parkinson's symposium to answer questions about disease
---
The 19th annual Parkinson's Disease Symposium on Saturday, April 16, will answer questions from patients with the disease and their families and friends.
The event titled "Parkinson's Potpourri: You Asked For It!" will take place from 9 a.m. to 2 p.m. at Parkway Place, 2592 Parkway Plaza in Maumee.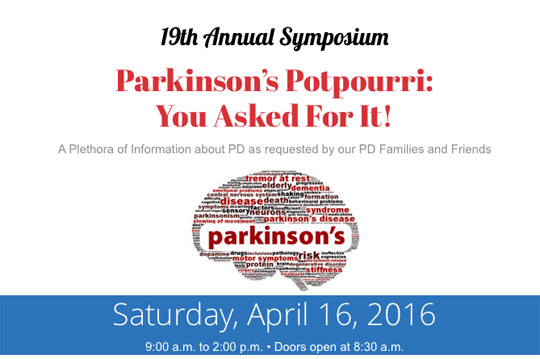 "Our goal is to make Parkinson's disease as insignificant as possible for our patients, and this annual symposium is a great way for us to share with them and their families the very latest in research and treatment options. We want to make sure that people with Parkinson's enjoy life as much as they possibly can," said Dr. Lawrence Elmer, director of the Gardner-McMaster Parkinson Center at The University of Toledo.
Dr. Krishe Menezes, associate professor and neurologist at the Gardner-McMaster Parkinson Center, will give the keynote address, "A Review of Systems," at 10:30 a.m. and discuss how Parkinson's disease affects each body system, such as the skin, eyes, and gastrointestinal and musculoskeletal systems.
The symposium focuses on research and treatment information for the degenerative disorder. Additional topics to be discussed include a history of Parkinson's disease, possible causes, exercise options, and what to expect as the disease progresses.
The symposium is presented annually by the Gardner-McMaster Parkinson Center at UT and the Parkinson Foundation of Northwest Ohio, and is supported by gifts from companies and organizations recognized at the symposium.
For more information, click here.