UTMC Podcast Prescribed Listening Debunks Fake News About Organ Donation
---
More than 103,000 people in the U.S. are waiting for organ transplants, but many won't get them.
Organ donation is surrounded by so many myths and misconceptions that hold people back from saving lives.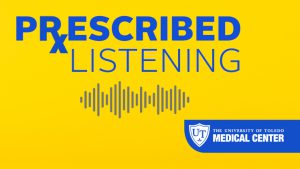 In a new episode of Prescribed Listening, Dr. Obi Ekwenna, a transplant surgeon at The University of Toledo Medical Center, sorts out the facts from fiction to help families make more informed decisions about whether to donate organs after death or while alive and healthy.
"Organ donation touches on everything that makes us human and everything that makes it beautiful to live and to connect," Ekwenna said, "because that is all we want. We want to connect. And it's miraculous."
Ekwenna explains the differences between deceased donation and living donation, walks us through the process of registering to be a donor and, in the case of living donation, outlines the extensive evaluation of health risks to determine if you would be a good candidate.
UTMC is the first in the region to offer robotic-assisted kidney transplant surgery, putting UTMC among a select group of hospitals nationwide offering the innovative, less invasive surgery.
"Donating a kidney is safe," Ekwenna said. "Before you donate your kidney, we make sure that the risk to the donor is absolutely negligible. As a matter of fact, what I tell donors as they step in is, I'm looking for a reason for you not to donate. I'm leaning towards no. So if you go through the screening process, then it's safe for you."
In 2022 UTMC completed a record 200 successful kidney transplants while maintaining its status as one of the fastest kidney transplant programs in the country.
Nationally, the median time patients spend between getting on a waitlist and receiving a transplant is nearly three years. At UTMC, the average time is a little more than four months.
"We're the fastest transplant center in the country here in Toledo and at The University of Toledo Medical Center," Ekwenna said. "We still are maintaining excellent outcomes for our patients, so it's an amazing fit."
To review the podcast's entire library of episodes, go to the UTMC Prescribed Listening website.
New episodes of Prescribed Listening will be released through spring semester.
Subscribe to UTMC's Prescribed Listening podcast on Apple Podcasts or Spotify.