Medical Mutual Glass City Marathon at UT April 28
---
Runners of all ages and ability are encouraged to sign up for the Medical Mutual Glass City Marathon that will take place Sunday, April 28, on The University of Toledo's Main Campus.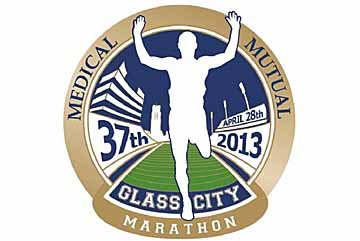 The Glass City Marathon is an annual event organized by the Toledo Roadrunners Club, a nonprofit founded in 1976. Thousands participate in a variety of events: a marathon, half marathon, five-person marathon relay, 5K and kid's marathon. All of the events start on UT's Main Campus and finish on the field of the Glass Bowl.
"The Medical Mutual Glass City Marathon is a way for us to showcase the University and our campus," said Andrea Masters, program manager for the UT Office of Community Wellness and Health Promotion. "It's not only members of the local community attending the event, but people come from miles away to run this course."
The Road Runners Club of America has designated this marathon as the regional championship race, and it is a Boston qualifier, ranking in the top 25 marathons in the country. Little elevation change, smooth roads, park running, a stadium finish and a post-race party are highlights runners rave about.
"The first year we started hosting the event, we had about 1,500 runners," Masters said. "This year, we're expecting up to 7,000 runners and up to 10,000 people, including spectators and other attendees."
As a host and sponsor, the University provides access to its facilities as well as support from a number of departments, including Athletics, Facilities and the UT Police Department.
The Medical Mutual Glass City Marathon also is known for its low-cost registration, Masters said. There are early bird registration deals, and people can register at the Health and Fitness Expo Saturday, April 27, from 10 a.m. to 6 p.m. in Savage Arena.
Beginning Friday, April 26, at 10 p.m., Parking Area 10 north of the Glass Bowl will be closed through Sunday, April 28, at 5 p.m. All cars remaining in the lot at 6 a.m. Saturday, April 27, will be towed.
Additionally, there will be limited access to Main Campus Sunday April 28, starting at 5 a.m. The UT community should be aware that there will be several road closures on campus and throughout the community for the race.
To learn more about the marathon events and to register, visit glasscitymarathon.org.