Exhibit focuses on activism and history of protest
---
"PROTEST: Activism and Social Change, 1845-2015," an exhibition, will open Thursday, April 18, at 3 p.m. in the Ward M. Canaday Center for Special Collections on the fifth floor of Carlson Library with a panel discussion on the effectiveness of activism in creating change.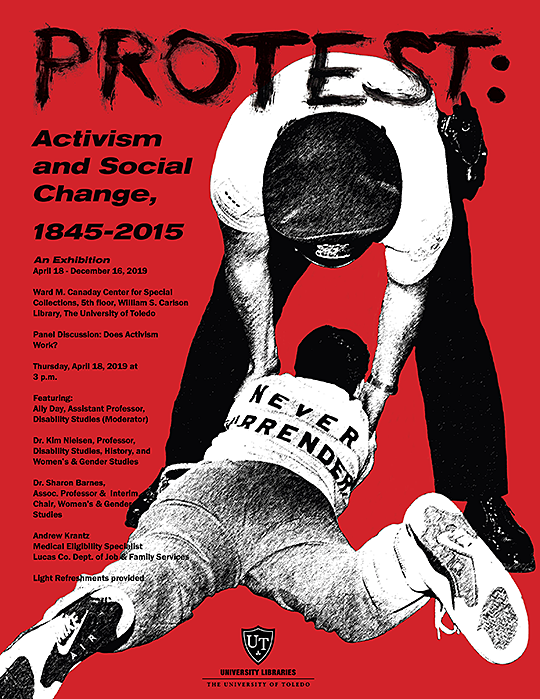 Panelists will be Dr. Kim Nielsen, professor of disability studies, history, and women's and gender studies; Dr. Sharon Barnes, associate professor and interim chair of women's and gender studies; and Andrew Krantz, medical eligibility specialist for the Lucas County Department of Job and Family Services. Dr. Ally Day, assistant professor of disability studies, will be the moderator.
"Social media has made us more aware of activism than ever before. #BlackLivesMatter, #WomensMarch, #MarchForOurLives, and many other hash tags have emerged as powerful tools for gaining support for a cause, but Americans have a long history of joining together to advocate for civil rights," Sara Mouch, archivist in the Canaday Center and associate lecturer, said. "Demonstrations, sit-ins, boycotts, art, writing, service, scholarship and education have been — and continue to be — effective methods to demand social and political change."
"PROTEST" illustrates those demands for change through the historical materials of local and national activist organizations, student groups, and individual artists and advocates.
The exhibit explores the theme of protest by focusing on six movements: women's rights, civil rights, disability rights, labor rights, student protest, and LGBTQ rights.
A free exhibition catalog providing a general overview of each movement will be available to guests.
The free, public exhibition will be on display Monday through Friday from 8:30 a.m. to 4:30 p.m. through Monday, Dec. 16.
The collections represented in the exhibit are available for review by interested researchers. For more information on the exhibit or to view related collections, contact the Canaday Center at 419.530.4480.