Rocket football coach to sign hot dog bun at Tony Packo's April 19
---
UT Head Football Coach Jason Candle will join the tradition of celebrities signing a world famous Tony Packo's hot dog bun when he puts ink to bread Wednesday, April 19 at 12:30 p.m. at Tony Packo's at the Park, 7 S. Superior St., Toledo.
Rocket fans are welcome to join the event.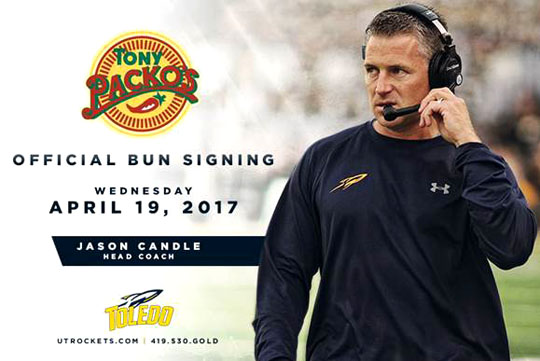 After the official signing, the bun will be enshrined on the walls of the original Tony Packo's Restaurant at 1902 Front Street in Toledo. Superstar actor Burt Reynolds kicked off a decades-long tradition at Packo's when in 1972 he signed a hot dog bun for the restaurant to display on its walls. Since that time, hundreds of actors, sports figures, musicians and politicians have followed Reynolds in autographing a bun for a legion of Packo's fans to look at while partaking in world-famous Tony Packo's food.
Candle joins UT Head Men's Basketball Coach Tod Kowalczyk as a Tony Packo's bun-signer.
UT Head Women's Basketball Coach Tricia Cullop is scheduled to sign a Packo's bun Wednesday, May 3.
Click to access the login or register cheese