Deadline approaching to register for Latino Youth Summit
---
Wednesday, April 25, is the deadline to register for this year's Latino Youth Summit at The University of Toledo.
The annual event for middle and high school students will take place from 9:15 a.m. to 1 p.m. Tuesday and Wednesday, May 15 and 16, respectively.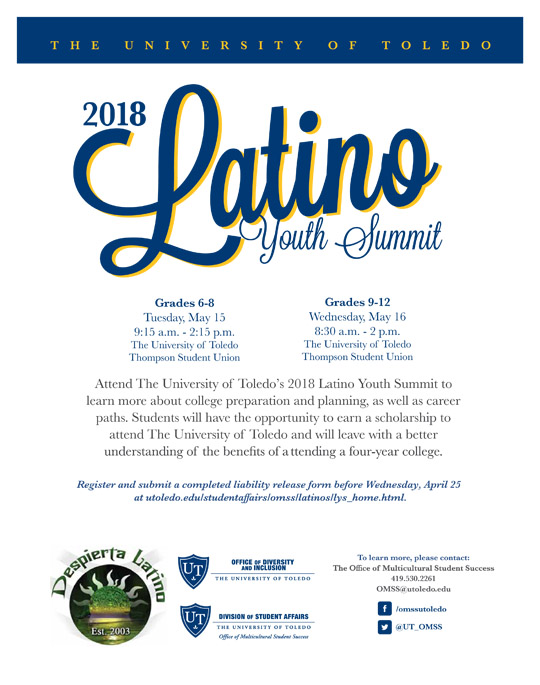 More than 500 Latino junior high and high school students visit campus each year for this event. The summit provides youth with the opportunity to learn more about the opportunities that are available at The University of Toledo, as well as other post-secondary options.
Josué Quiñones, also known as JQ, will be the keynote speaker both days. A self-described career champion, Quiñones' message of "Success is a lifestyle!" is designed to inspire students to strive for success in everything they do.
Students will be able to participate in a mini-preview of the campus, learn about career opportunities, and engage in hands-on activities in pharmacy, engineering and personal finance.
There will be several scholarships awarded to incoming freshman; these include one year of on-campus housing and $2,000 annually for tuition.
To register, visit the Latino Youth Summit page.
For more information or with any questions, contact Aleiah Jones, program coordinator in the Office of Multicultural Student Success, at 419.530.2261 or aleiah.jones@utoledo.edu.