UT Chapter of Honor Society of Phi Kappa Phi to initiate new members
---
The University of Toledo Chapter of the Honor Society of Phi Kappa Phi will hold its initiation ceremony for new members Saturday, April 23, at 1 p.m. in the Student Union Ingman Room.
More than 70 undergraduate and graduate students and three UT faculty members will be inducted into the honor society this year.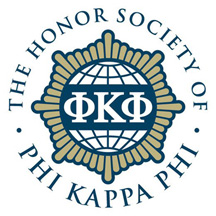 Dr. Dale Snauwaert, UT professor of educational foundations and leadership, will present the keynote address.
Student inductees into the honorary must be among the top in their class as juniors or seniors or in their graduate program to qualify for membership.
In addition to inducting new members, the society will honor four $500 scholarship winners. The winners were selected based upon academic performance, an essay, and letters of recommendation from faculty members. The winners are:
• Tala Abou-Dahech (Toledo), a freshman majoring in speech-language pathology. Valedictorian for her Toledo Early College High School class, Abou-Dahech also was a winner of a Jefferson Award for public service through Leadership Toledo, and a BCSN Student of the Month. She is active in many University and community groups. In her essay for the scholarship, Abou-Dahech wrote of the important role that the Toledo Early College High School played in her life by giving her confidence to succeed in college. Stephanie Hughes, associate professor in the UT Speech-Language Pathology Program, noted in her recommendation letter that Abou-Dahech "represents the best and brightest of the speech-language pathology undergraduate program."
• Lucille Frank (Wauseon, Ohio), a junior, majoring in political science and French. In addition to many volunteer activities, she has served as an intern in the office of Toledo's mayor. She has conducted research on the Keystone XL Pipeline, human trafficking, mental illness and food sustainability. In her essay, Frank wrote about her difficult transition from growing up in a small town to studying at UT, and her experience living and studying abroad in France. As Dr. Larry Connin, professor in the Jesup Scott Honors College, noted in his recommendation letter, "Lucy is one of the most active and engaged students I have been around. She is a committed activist and a 'doer' — always on the lookout to embrace the next new experience."
• Megan Post (Fort Recovery, Ohio), a freshman majoring in pharmaceutical sciences and pre-med. In addition to a full schedule of work and volunteer activities, Post wrote in her essay about becoming certified as an emergency medical technician and volunteering with her county's emergency squad. In his recommendation letter, Dr. Isaac Schiefer, assistant professor of medicinal and biological chemistry, stated that he selected Post to serve as a researcher in his laboratory, and that "Megan is exceptionally mature for her age and has a good grasp of her eventual career goals." Post is one of two bachelor of science in pharmaceutical science scholars in her class in the UT College of Pharmacy.
• Lekha Vemuru (Toledo), a sophomore majoring in biology. She is active in many University organizations, and was selected last summer to conduct research in the lab of Dr. John Plenefisch, associate professor and associate chair of biological sciences, investigating cellular movement. In her essay for the scholarship, Vemuru wrote about the emotional experience of working in Managua, Nicaragua, over spring break teaching English and Spanish to children there. Sharon Schnarre, UT pre-med adviser, described Vemuru as "warm and caring, and I am confident she will be successful in her pursuit of a career as a physician and an asset to the profession."
In addition to the undergraduate and graduate students who will be inducted into the honor society, three UT faculty members also will be inducted: Kelly Moore, associate professor of law and interim dean of the Jesup Scott Honors College; Dr. Martin J. Ohlinger, clinical assistant professor of pharmacy practice; and Dr. Ami Pflugrad-Jackisch, associate professor of history.
For more information, contact UT chapter Phi Kappa Phi President Wade Lee, associate professor of library administration, at 419.530.4490.