UT's EarthFest 2009 to take place April 22
April 20, 2009 |
Events
By Shannon Wermer
---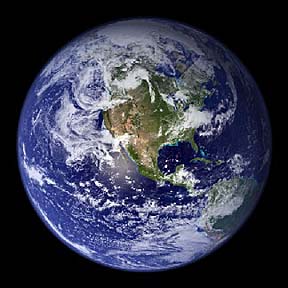 Celebrate Earth Day with music, food, speakers and more at the 10th annual EarthFest Wednesday, April 22, from 11 a.m. to 6 p.m. on The University of Toledo's Centennial Mall on Main Campus.
"EarthFest is a really important day for the University because it's a chance for students to learn more about our environment and what they can do to make a difference," said Kristin Cavanagh, president of the UT Society for Environmental Education. "The event is a fun way to remind everyone that their actions really affect our environment and encourage them to take steps to become more sustainable in their lives."
Representatives from local organizations that focus on environmental issues will be on hand all day to speak to students about movements going on in the Toledo area, she added. These organizations will include the UT River Commission, Toledo Grows, UT Republicans, Environmental Justice Quilt and UT Anti-War.
EarthFest activities will include music by Neon DJs and a drop-off location to recycle batteries and electronic equipment.
Also taking place will be:
• 11 a.m. to 4 p.m. — Groundbreaking for the UT Outdoor Garden Classroom, which will be located across from the Law Center near the Secor Road entrance. Those who want to help can go to that location or stop by EarthFest on Centennial Mall and pick up a tool to take to the site, Cavanagh said.
• 11 a.m. — Gary Haase from the Nature Conservancy will speak.
• Noon — Free food from Organic Bliss Deli.
• 12:30 p.m. — John Duvall, president of Toledo Choose Local, will talk.
• 1 p.m. — Dr. Stacy Philpott, UT assistant professor of environmental sciences, will talk about the UT Outdoor Garden Classroom.
• 4 p.m. — EarthFest Poetry Contest results and readings.
• 5 p.m. — "Lake Erie Invaders," a three-play musical comedy show, by North Coast Theatre. The plays are written and directed by former UT Theatre Lecturer Christine Child with music by UT Music Professor Dr. David Jex.
In the event of rain, the program will be moved to the Student Union South Lounge.
EarthFest is sponsored by the UT Society for Environmental Education, Student Government, the UT Honors Program, and the UT Environmental Sciences and English departments. In addition, partial funding comes from student fees.
For more information, contact Cavanagh at 440.655.5209 or kristin.cavanagh@utoledo.edu.