UT music graduates to share talents in 'Alumni Sing for Alma Mater'
---
The University of Toledo Alumni Association and the Richard R. and Barbara R. Perry Program Excellence Fund are co-sponsoring "Alumni Sing for Alma Mater" Sunday, April 26, at 3 p.m. in Doermann Theater.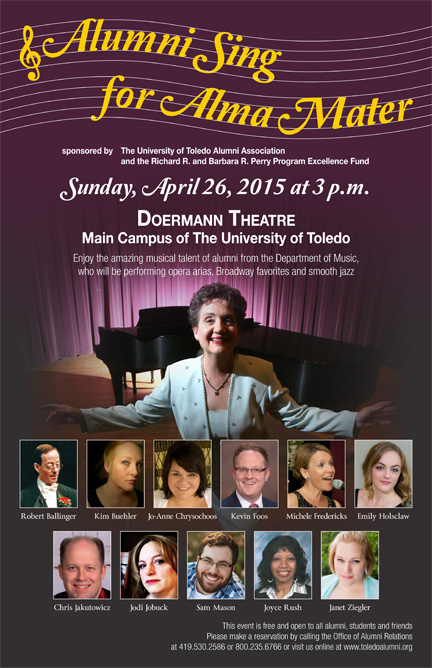 The free afternoon music performance will be followed by a reception in the lobby outside the theater.
"Alumni Sing for Alma Mater" will feature singers who are graduates of the University and have achieved success in opera, stage performance and through the teaching of classical, Broadway and jazz.
Michele Fredericks, Jo-Anne Chrysochoos, Jodi Jobuck, Joyce Rush, Kim Buehler, Sam Mason, Kevin Foos, Chris Jakutowicz, Janet Ziegler and Emily Holsclaw will entertain and educate with their vocal repertoire.
Robert Ballinger, UT associate lecturer in the Department of Music, will serve as accompanist.
Parking is free in the lots nearest University Hall: areas 2, 13, 1N and 1S. A shuttle bus will transport guests from area 17 outside the Driscoll Alumni Center to Doermann Theater.
While the event is free, reservations are encouraged online at toledoalumni.org or by calling the Office of Alumni Relations at 419.530.2586 or 800.235.6766.