Celebrate the colors of religious diversity at Holi Toledo April 27
---
The University of Toledo has a tradition of drawing strength from the diversity that is brought from its students, faculty and staff.
Four years ago, in keeping with this tradition, the campus adopted the event Holi Toledo.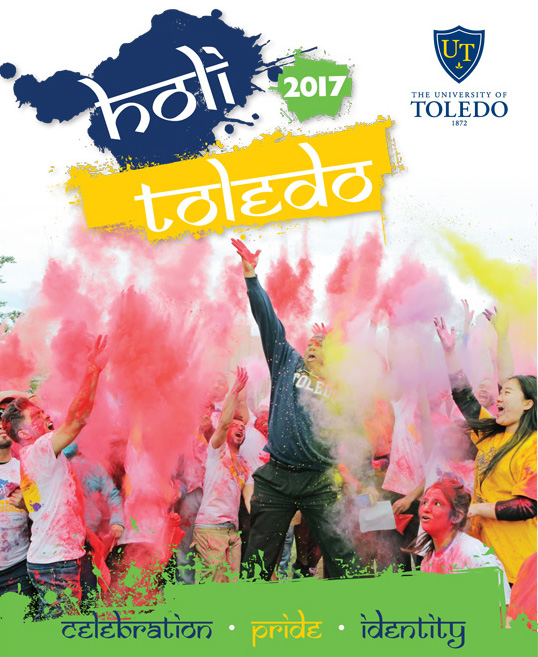 "There is the story about Holi, and then there is the story about Holi Toledo, and the two are very much connected," said Dr. Yonatan Miller, director of the Center for Religious Understanding.
"Holi is a popular springtime festival that is celebrated with great fanfare in India; this year it was celebrated March 13. It is a colorful celebration — both cultural and religious — of the change of seasons and the triumph of good over evil. And, significantly, it is also a time when, at least for one day, all people are considered equals; the usual social hierarchy is suspended," Miller explained.
During a typical Holi celebration, people smear each other with colors and colored water is thrown, drenching anyone and everyone. The festivals also include song, dance, food and drinks.
Holi Toledo was the brainchild of Dr. Jeanine Diller, former director of the Center for Religious Understanding. The event, which draws on the festivity, color and seasonal meaning of the holiday, has the blessing of the Hindu Temple of Toledo.
"Holi Toledo also serves a more immediate purpose here in the UT community, which is to highlight our diversity, promote unity, and foster improved understanding of the religions represented on campus," Miller said.
In addition to the colors, there will be music, dancing and a T-shirt giveaway sponsored by the Center for International Studies and Programs.
Miller also gave details on how the peer learning experience that is unique to this event cultivates religious understanding: "In order to obtain packs of color to throw periodically during the event, participants must first approach tables staffed by the myriad of UT's religious and cultural student organizations and ask a question, start a conversation, or have a meaningful interaction. My students know that as a teacher, I am always looking for ways to get them talking, and the incentive of the color packs is a fun way for us to jump-start conversations and create the foundations for longer term dialogue.
"My hope is that the interactions that students have with their peers serve to improve their religious literacy, and, as a consequence, their understanding of the religious 'other.' This is one of the outcomes that I, as a professor of religion, seek in the classroom, in the context of formal education. To do this in a fun, informal and social environment is a nice complement to the more formal manner in which religion is usually approached in a university context."
The significance of the event and its unique festivities have made it a favorite among students.
"To have Holi celebrated on campus is such a beautiful sight to see," said Hima Katrapati, a UT senior studying biology and finance, who is a native of Hyderabad, India. "There are so many people from different cultures who come out to celebrate ours and share memories with each other. Even though many people don't know the meaning behind it, many people ask questions and try to gain the true meaning of Holi."
Holi Toledo will take place Thursday, April 27, from 3 to 5 p.m. on the grounds outside Memorial Field House. The event originally was scheduled for this week, but has been pushed back one week due to the weather forecast.
For more information on Holi Toledo, visit cfru.eventbrite.com.