UT men raise more than $700 for domestic violence shelter by racing in high heels
---
Nearly 100 men at The University of Toledo wore high heels and walked or sprinted across campus this week to raise awareness about sexual assault.
The "Walk a Mile in Her Shoes" event raised more than $700 for the Bethany House, a local domestic violence shelter.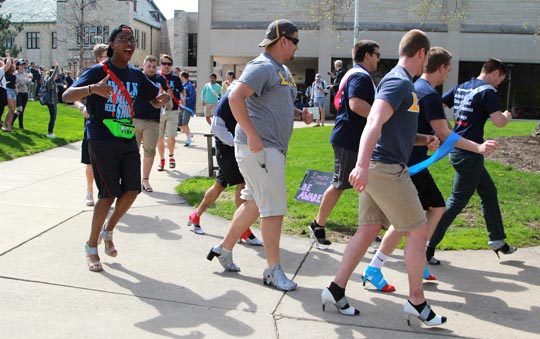 "The trick was pacing myself and using duct tape to keep the stilettos from falling off," said Izzy Okeke, a senior who finished first. "Domestic violence is a big issue in today's world, and getting people to participate in this event and raise awareness is amazing."
Alpha Chi Omega and the UT Center for Student Advocacy and Wellness hosted the fundraiser, which was part of a series of events at UT for Sexual Assault Awareness Month. For the full list of events, go to utoledo.edu/studentaffairs/saepp/awareness-month.html.
Click to access the login or register cheese