Dare to Juice event April 21 to promote healthy living
---
Thirsty? Need an energy boost without the crash? Come by Rocky's Attic in the Student Union Thursday, April 21, at 7 p.m. and get not only a free, fresh and organic green juice, but also find out ways to live and eat healthy.
As part of Diversity Month, the Juice House student organization is hosting an event to connect the members of the UT community with health professionals, local businesses, and alumni who have a passion for living a healthy lifestyle.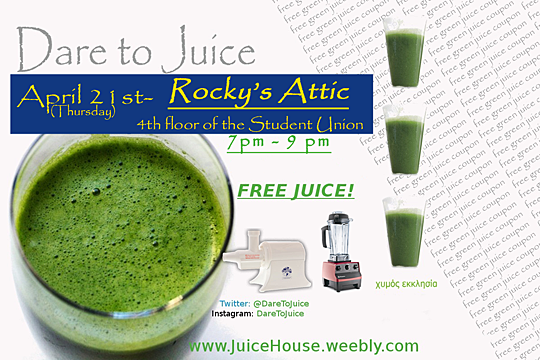 Curious about the local water issue? Want to know about how the water affects your health? Find out more Thursday night by visiting the poster session that will be held during the juicing event.
Juice House was founded by University students and local community members who recognized the need for healthy living among college students on the UT campus.  
"Juice House cares about health for the body and the community," said Tiffany Richmond, a UT alumna and communications coordinator with Juice House, who is pursuing a PhD at Bowling Green State University. "The diverse community here at The University Toledo is beautiful — we are beautiful people, on a beautiful campus, living a beautiful life — @Daretojuice."
This free, public event is sponsored by the Juice House, Kroger and Vitamix.
For more information, click here.