Virtual Job Fair Connects Rockets to Education Employers April 22
---
As part of the University's campus-wide response to the coronavirus pandemic, the annual UTeach Job Fair will happen virtually from 9 a.m. to 5 p.m. Wednesday, April 22.
Virtual interviews are being scheduled with education employers from around the country with the Career Fair Plus app where users can view available positions, learn more about organizations, and "favorite" the employers they would like to meet with. The app is also integrated with LinkedIn and includes a built-in interview platform to assist with interview scheduling and availability.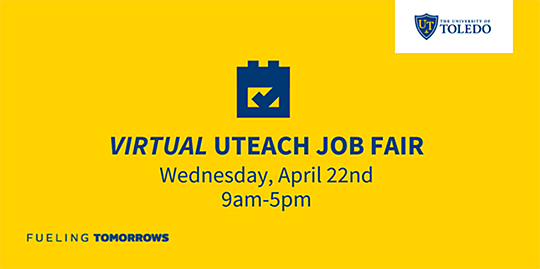 "We're excited to offer our students, alumni and employer partners this opportunity to connect," said Abigail Sullivan, marketing, communications and recruitment specialist in the Judith Herb College of Education. "While we would have loved to host an in-person event, we're confident the virtual format will match the right talents with the best careers."
Interview times are still available. College of Education students and alumni wishing to participate are encouraged to download Career Fair Plus (available on the App Store and Google Play), create a profile, and sign up for interview times before 5 p.m. Tuesday, April 21, to allow enough time for employers to prepare. Full business professional attire is recommended.
"Virtual interviews are very similar to traditional in-person interviews," said Laura Jane Moser, events coordinator with UToledo Career Services. "It's best to dress, prepare and conduct yourself as though you are meeting face to face."
If an interview cannot be scheduled April 22, interested students and alumni are encouraged to contact the hiring company directly.
For more information, visit utoledo.edu/education/jobfair.