Sign up for UT-Ohio State pre-game tailgate party, bus trip
April 22, 2009 |
Events
By Megan Lewis
---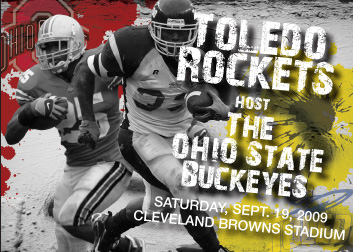 Need a ride to the Cleveland Browns Stadium to cheer on the Rockets as they battle the Buckeyes Saturday, Sept. 19?
If so, sign up for the bus trip and pre-game party sponsored by the UT Alumni Association.
A total of 23 buses have been reserved to transport students, alumni and UT community members to the game.
Pre-game parties will take place in the stadium's City View Club Lounge and the Lake View Club Lounge.
Dan Saevig, UT associate vice president of alumni relations, said, "This is a popular event for the UT community and one of the largest gatherings the Alumni Association will ever host."
The party menu will consist of hamburgers, cheeseburgers, hot dogs, kielbasa, bratwurst, nachos with chili, baked beans, potato salad, coleslaw, desserts, coffee, tea, soft drinks and water. A cash bar also will be available.
Game time has not been set, but the buses will depart campus approximately six hours before the scheduled kickoff. The pre-game event will begin three hours before kickoff.
The cost for bus trip, game tickets and pre-game event is $145 per person.
Options for those who have already purchased game tickets are:
• $90 per person for bus trip and pre-game event.
• $45 per person for pre-game event only.
The deadline to make reservations for the bus trip is July 30. However, seats are available on a first-come, first-served basis.
The pre-game meal is limited to the first 1,200 and will be accepted until the capacity is reached.
Cancellation refunds for this event will not be provided.
To sign up for the bus trip and/or the pre-game event, call the UT Alumni Association Office at 419.530.2586 or 1.800.235.6766. Registration also may be made online at www.toledoalumni.org.
Those who need tickets to the UT-OSU game must place their orders by May 1. Tickets will only be available to UT season ticket holders, suite/stadium club seat holders, Athletic/Rocket Fund contributors, and current or enrolled incoming UT students. For more information, call the UT Athletic Ticket Office at 419.530.GOLD (4653).