Celebrate the planet at EarthFest 2013
---
As The University of Toledo continues to go green and develop as an eco-friendly institution, the 14th annual EarthFest will provide the UT community with new and innovative ideas to achieve those goals as well as provide a day of music, food and fun on campus.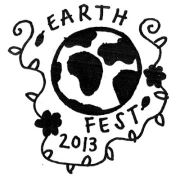 On Tuesday, April 23, from 11 a.m. to 4 p.m., the Society for Environmental Education, a student-run organization, will host EarthFest 2013 on Centennial Mall on UT's Main Campus. In the event of inclement weather, the event will take place in the Student Union Trimble Lounge.
"EarthFest is a celebration of our planet and an opportunity to remind all Rockets that blue and gold make green," said Lauren McCafferty, a senior biology major and president of the Society for Environmental Education. "We're trying to inform everyone about important environmental problems that our community faces and help show ways to go green and network with groups, companies and others who want to do the same."
The free, public event will include live musical guests, as well as a number of games and contests, including a recycled art competition.
And guests can participate in several events, including a free bicycle tune-up and a "sustainable swap," where people can trade 10 used plastic bags or bottles in exchange for a new reusable bag or bottle.
EarthFest 2013 also will include special guests with information tables about their companies and organizations, including the Toledo Zoo and Metroparks of the Toledo Area, that are working toward creating a more sustainable future. Specific organizations also will collect information for possible employment and internship opportunities. Those interested are encouraged to bring resumés.
The event is made possible in part by donations from the Division of Student Affairs and food donations from Pita Pit.
EarthFest is part of the weeklong celebration of multi-modal week in which students and faculty are encouraged to seek alternative forms of transportation such as walking, biking and public transportation.

For more information about EarthFest 2013, visit the Facebook event page or utoledo.edu/sustainability/events.html.