Explore the world at Toledo Sister Cities International Festival
---
The Toledo community will celebrate cultures from around the world during the Toledo Cities International Festival through entertainment, food and crafts.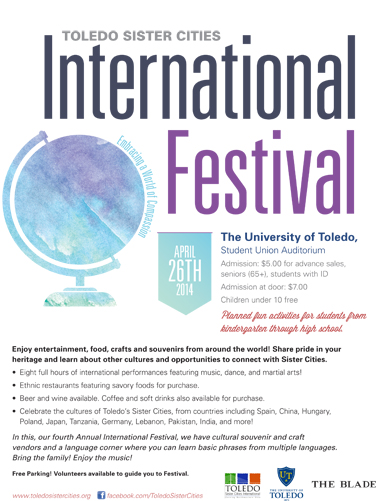 The fifth annual festival will be Saturday, April 26, from noon to 8 p.m. in The University of Toledo Student Union Auditorium.
Attendees will celebrate the cultures of Toledo's Sister Cities from Spain, China, Hungary, Poland, Japan, Tanzania, Germany, Lebanon, Pakistan, India and more.
"The International Festival grows each year as more and more community members come out to celebrate their heritages and learn about other cultures," said Dr. Susan Miko, executive director of Toledo Sister Cities International. "The University of Toledo is a great partner because of its commitment to diversity and engagement with not only students, but the broader community."
The day will include international performances featuring music, dance and martial arts, as well as ethnic restaurants providing food and drinks for sale, a number of cultural and craft vendors, and a raffle and silent auction.
A language corner also will allow community members to learn basic phrases in multiple languages.
"The goals of Toledo Sister Cities International mirror the University's efforts to encourage international interactions to increase global understanding and respect," said Dr. Sammy Spann, assistant provost with the Center for International Studies Programs. "We are proud to host this festival on campus for the greater northwest Ohio community to explore their world."
Admission is $5 in advance and can be purchased at the Ask Rocky counter located in the Student Union or by calling Toledo Sister Cities International at 419.966.1048. At the door, the price will be $5 for UT students with Rocket IDs and seniors 65 and older, and $7 for general admission.
For more information, visit toledosistercities.org or like them at facebook.com/ToledoSisterCities.