UT students plan event to spotlight human trafficking problem
---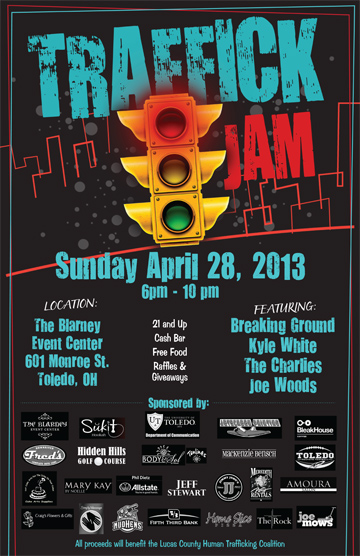 A group of University of Toledo students have partnered with local musicians, businesses and organizations to raise awareness of the human trafficking problem in Toledo.
The Traffick Jam will take place Sunday, April 28, from 6 to 10 p.m. at the Blarney Event Center, 601 Monroe St. in Toledo.
Local musicians Kyle White, Breaking Ground, Joe Woods and The Charlies are scheduled to perform.
International human trafficking expert Dr. Celia Williamson, UT professor of criminal justice and social work, also will speak, and a number of local anti-trafficking organizations will be present.
Students in The University of Toledo's Public Relations Practices course were asked to raise awareness about human trafficking, and it became more than just an assignment.
"Most of us didn't know anything about human trafficking when our class began, but as we studied it, we became so invested. It really struck a nerve with us. We wanted to do something to make a difference, something to get the community involved," UT student Michael Smith said.
The class organized the event with almost no budget, according to class instructor Gus Skorburg.
"We are extremely lucky to have such a strong community here in Toledo. Without the generosity of our sponsors and the support of the University, we could not have gotten this up and running," Skorburg said. "Our sponsors have donated the event facilities, provided items to raffle, and volunteered their time to help make this a success. I can't thank them enough."
Toledo's human trafficking problem ranks among the worst in the nation, especially in the area of minor sex trafficking. Toledo is the fourth largest recruitment site for minor sex trafficking in the country, according to the Ohio Human Trafficking Task Force 2012 report. In Ohio, 88 percent of human trafficking involves sex slavery and 84 percent of victims in Ohio are American born, according to the report.
The event will feature guest speakers, door prizes, raffles and silent auctions. There also will be a cash bar. All proceeds will benefit the Lucas County Human Trafficking Coalition. Entry into the event is free but restricted to those 21 and older.