UT to hold Rocket Sale at Savage Arena April 25-26
---
The University of Toledo Athletic Department will hold a two-day sale of Rocket gear, uniforms and equipment at Savage Arena Tuesday and Wednesday, April 25-26.
Items will include sale items from Rocky's Locker, marketing items, and game uniform and other equipment from UT athletic teams.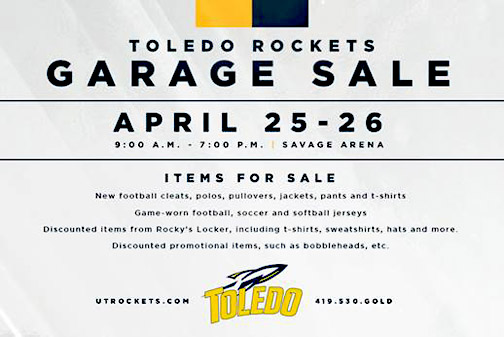 The sale will be in the West Concourse of Savage Arena and will run from 9 a.m. to 7 p.m. each day. All sales are final.
Fans may park in Lot 4 via Douglas Road and enter Savage Arena through Rocket Plaza entrance.
All proceeds raised from sales will support the UT Athletic Department.
For more information, go to UTRockets.com or call 419.530.GOLD (4653).
Click to access the login or register cheese