'Wearable Conditions' event scheduled for April 28
---
There will be fashionable art and more at the "Wearable Conditions" exhibition Thursday, April 28, at 7 p.m. at the Toledo Museum of Art Glass Pavilion.  
The event will include lectures by Dr. Brian Kennedy, president, director an CEO of the Toledo Museum of Art, and Brian Carpenter, UT gallery director and lecturer in the Art Department.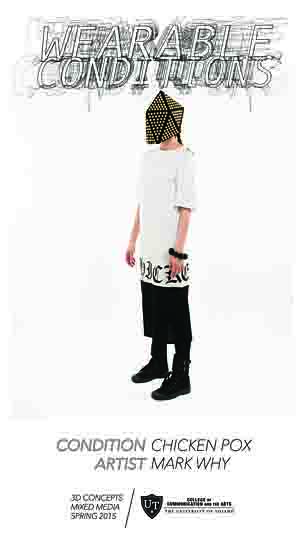 And there will be an original soundtrack featuring music played and created by Marc Folk, executive director of the Arts Commission of Greater Toledo.  
Ten student wearable works of art will be exhibited in a fashion show.
The concept of wearable art was developed last year, according to Carpenter.
"Students select and research a disease, virus or disorder, and then conceptualize and create a wearable work of art inspired by it," he said. "This allows for individual student works to join together and present as a cohesive body of work and ultimately a performance.  
"The act of conceptualizing an internal virus, disease or disorder by externalizing that focus into new forms reinforces student recognition of fundamental art-making processes. Art is essentially an internal concept manifested into an external object or performance."
Students also benefit from the research experience.
"Through research, students are exposed to characteristics of a virus, disease or disorder they may never have considered," Carpenter said. "This exposure brings about an awareness of not only the physical structure of these conditions, but also the treatments, policies, social constructs and politics that surround them as well."
For more information on the free, public event, contact Carpenter at brian.carpenter@utoledo.edu.