WNIT Champions hand out awards at reception
---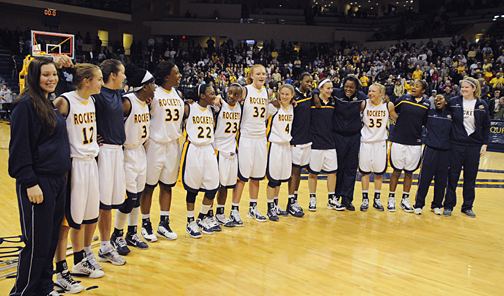 Team awards were presented at the 2010-11 Toledo Women's Basketball Reception held in Savage Arena on Tuesday evening.
The Rockets won a school-record 29 games and became the first Mid-American Conference basketball program to capture a national postseason tournament. UT's historic WNIT run was capped off by a 76-68 triumph over USC in the championship game before a school and conference women's basketball record 7,301 fans.
Toledo also claimed an outright MAC regular-season championship for the first time in a decade with a 14-2 ledger, as well as successfully defending its MAC West Division title.
The complete list of award winners is as follows:
• Team MVP Award (top interior player): Senior Forward Melissa Goodall. She scored in double digits 29 times this season, second-highest total on the squad, tallying 12.9 points, a team-high 6.9 rebounds, 1.1 assists and 1.1 blocks in 30.8 minutes per game. The third-team all-league honoree finished seventh in the conference in rejections, 11th in overall rebounding and offensive caroms (2.62 rebounds per game), 12th in field-goal percentage (45.2 percent, 183 of 405), 13th in defensive boards (4.30 rebounds per game), 16th in scoring and 24th in minutes played. She led the Rockets in scoring on 22 occasions, as well as rebounds a squad-best 20 times and blocked shots on 15 occasions, earning all-league recognition for the second-consecutive season.
• Team MVP Award (top perimeter player): Junior Guard Naama Shafir. She averaged a team-high 15.3 points, a squad-best 5.1 assists, 3.4 rebounds and 1.3 steals in 30.8 minutes per game. The first-team All-MAC honoree finished third in the league in helpers (34th in NCAA), seventh in assist/turnover ratio (1.09), 10th in scoring and 23rd in minutes played. Shafir scored in double figures on a team-best 30 occasions this season, including a career-high 40 points vs. USC in the WNIT Championship Game April 2.
The 2011 State Farm All-America Region 4 Finalist also dished out at least six assists in a contest a team-high 14 times this season, finishing with a season-high 11 dimes vs. Eastern Michigan Jan. 15. She paced the MAC regular-season champions in scoring a squad-best 22 times, as well as assists a team-high 31 times and thefts on eight occasions, earning the top perimeter player recognition for the third-consecutive year.
• Most Improved Award: Sophomore Center Yolanda Richardson. She played her best basketball since donning the Midnight Blue and Gold during the historic WNIT run, averaging 11.7 points, 5.7 rebounds and a squad-best 1.0 blocks per game. The Toledo native shot a scorching 59.6 percent (34 of 57) from the field in 24.3 minutes in the six postseason victories, earning All-Tournament Team recognition. She scored in double digits in four of the WNIT contests, equaling her career-high with 20 points against SEC member Auburn in the second round March 19.
Overall in 2010-11, Richardson averaged 7.4 points, 5.6 rebounds, a squad-best 1.4 blocks and 0.5 steals in 18.1 minutes per game. She finished fourth in the MAC in blocked shots, fifth in field-goal percentage (50.8 percent, 123 of 242) and 13th in offensive boards (2.36 rebounds per game). She also swatted at least two shots in a game 15 times this season. She led the Rockets in blocked shots a squad-best 21 times, as well as rebounds on nine occasions and scoring and steals twice.
• Best Defender Award: Redshirt Freshman Guard Andola Dortch. She defended the best perimeter player on the opposition and paced the team in steals (1.7 steals per game), tied for the 12th-best theft average in the conference. Overall in 2010-11, the MAC All-Freshman Team honoree averaged 6.6 points, 3.6 rebounds and 2.6 assists in 24.1 minutes per game. Dortch scored in double figures on nine occasions, including a season-high 17 points vs. Central Michigan March 2. She led the Rockets in steals a squad-best 13 times, as well as assists on seven occasions and rebounds six times.
The Akron, Ohio, native started the final 21 games of the season (18-3, .857), contributing 8.5 points, 4.1 rebounds, 3.4 assists and a team-high 1.8 thefts in 30.2 minutes per game. She registered at least 10 points seven times during this stretch, totaling her first double-double with 13 points and a season-high 10 rebounds vs. Charlotte in the WNIT Semifinals March 30.
• Most Inspirational Award: Junior Wing Courtney Ingersoll. She played a key role for the Rockets coming off the bench this season. The 2010-11 tri-captain ranked third on the squad in triples (30) and blocked shots (9), tied for third in steals (42, 1.1 steals per game), fourth in assists (46, 1.2 assists per game), tied for fourth in rebounding (3.6 rebounds per game), sixth in minutes played (24.0 minutes per game) and seventh in scoring (4.2 points per game). She made at least two triples in a game six times and collected at least two thefts in a contest on nine occasions this season. Ingersoll also scored in double figures on two occasions, totaling a season-best 12 points vs. Western Michigan Feb. 16. She led the Rockets in steals eight times, rebounds and blocked shots on three occasions, as well as assists once.
Earlier this season, Ingersoll recorded a career-high seven thefts against Indiana Dec. 12. Her theft total vs. the Hoosiers is tied for the most in a game by a UT player since Kim Knuth also had seven vs. Kent State March 1, 1999.
Ingersoll also received the Sixth Man Award, sponsored by the Igniters, the Lady Rockets Fan Club, and the Academic Award (top GPA for fall semester and first portion of spring semester). Ingersoll posted a perfect 4.00 GPA during the fall semester and is on pace for another outstanding GPA for the spring term.
• Whatever it Takes Award: Sophomore Lecretia Smith. She was moved into the starting lineup this season to fill the void left by 2009-10 first-team All-MAC selection Tanika Mays in the post. She did an outstanding job before suffering a season-ending knee injury in the MAC Tournament, averaging 6.7 points, 5.8 rebounds, 1.5 steals and 1.2 assists in 26.3 minutes per game. The Elmhurst, Ind., native scored in double figures on seven occasions, including a season-high 14 points at NCAA Tournament participant Dayton Dec. 5. The 5-foot-9 forward shot a squad-best 55.5 percent (81 of 146) from the field, ninth-best mark in school history in a single season. She led the Rockets in rebounds nine times, as well as steals on eight occasions and points and blocked shots once.
• Community Service Award: Senior Guard Jessica Williams. She played a significant role in Toledo's involvement with the Josina Lott Residential & Community Services in 2010-11. The tri-captain and her teammates worked with selected individuals to help them learn everyday skills like personal hygiene, cooking, reading, writing, money management and eating/table manners, as well as social and recreational skills.
On the court in 2010-11, Williams averaged 9.2 points, 2.0 rebounds, 1.7 assists and 1.1 steals in 29.6 minutes per contest. She started every contest and scored in double figures on 16 occasions, third-highest total on the team, including a season-high 24 points vs. Maryland, Baltimore County Nov. 27. The Westerville, Ohio, native made at least three triples in 13 games this season, including a season-best six three-point field goals on two occasions against UW-Milwaukee and UMBC. She finished the season second in the MAC in three-point field-goal percentage (40.0 percent, 84 of 210) and fifth in three-point field goals (2.27). Williams led the Rockets in steals 11 times, as well as scoring on five occasions and assists twice.