Share pride in heritage, learn about other cultures at April 29 international festival
---
The eighth annual Toledo Sister Cities International Festival will be held Saturday, April 29, from 10 a.m. to 6 p.m. in Savage Arena.
Participants will have the opportunity to learn about and experience cultures from around the world.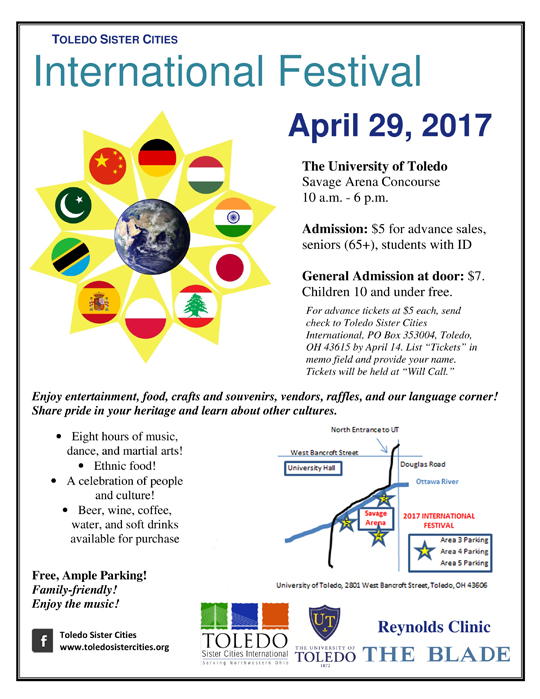 The event will start with a parade of nations at 10 a.m. After that, there will be an opportunity every 30 minutes for participants to learn a little bit of a different language including Urdu, Arabic and Hungarian.
Ethnic food and crafts will be available for purchase.
"The basic premise of Sister Cities International is that the road to global peace is built with the small bridges that citizen diplomats create among each other through business, and educational and cultural exchanges," said Christine Weisfelder, treasurer of Toledo Sister Cities International. "The international festival brings new people into this process and helps all of us appreciate this mosaic we call Toledo."
Last year, more than 3,000 people attended the event that featured music, dance, and the celebration of people and diverse cultures.
"I think people should come to the international festival because the event celebrates the wonderful diverse cultures of the people who live in Toledo and surrounding communities," Weisfelder said. "Toledo Sister Cities International exists to build bridges — internationally among our citizens and the citizens of our sister cities, and locally among our ethnic communities here in Ohio. Our lives are enriched when we appreciate each other."
Admission is $5 for seniors 65 and older and students with their ID; $7 for general admission; and free for children 10 and younger.
For more information, visit toledosistercities.org.