New tobacco policy to take effect Aug. 15
---
Construction will be the first sign of the change in UT's tobacco policy.
The new policy, which will go into effect Monday, Aug. 15, will restrict tobacco use to certain areas on Main Campus and the satellite campuses. Although activation is a few months off, construction of nine designated locations where tobacco use will be permitted is set to begin within a few weeks.
The policy does not affect the Health Science Campus, which has been tobacco-free since 2006.
Alexis Blavos, alcohol, tobacco and other drug prevention specialist and a member of the committee that crafted the policy change, said respondents to a campus-wide survey completed in 2009 preferred a more restrictive approach to tobacco use.
"Current policy prohibits tobacco use within 30 feet of all building entrances on Main Campus," Blavos said. "By and large, those who responded to the survey voted to make the policy more restrictive or to go completely tobacco-free."
Blavos said a subcommittee comprised of faculty, staff and student representatives has worked for more than a year to draft the new policy, which is posted on the Office of Student Affairs' Residence Life Web page at http://www.utoledo.edu/studentaffairs/reslife/ATODPC/policies.html.
Seven of the designated huts will be scattered across Main Campus, with one each on the Scott Park Campus of Energy and Innovation and the Lake Erie Center.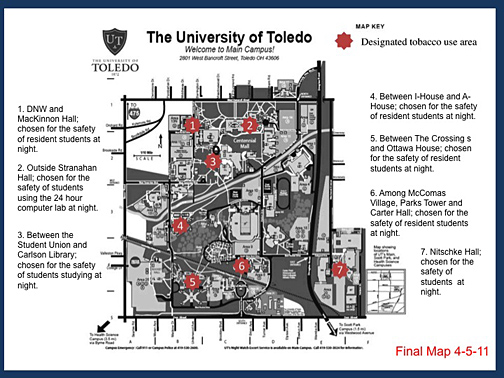 Main Campus locations will be:
• East side of Carlson Library;
• Between Stranahan Hall and University Hall;
• Between Academic House and International House;
• Between the Crossings and Ottawa House;
• In McComas Village;
• Near Dowd, Nash and White halls; and
• Near Nitschke Hall.
"Much of our work on the new policy was spent making sure the designated tobacco use locations were in safe spots near the 'blue box' emergency phones and in well-lit areas. We've also asked for extra lighting where some of the huts will be located," Blavos said.
Blavos added that "floating" areas will be offered during large-scale events, including athletic, arts and public events.
"Research shows that about 20 percent of students at UT and other universities nationwide use tobacco products, which have many harmful effects not only to the user, but to others," said Dr. Kaye Patten Wallace, vice president for student affairs. "Our focus is to promote a healthier campus for everyone and to encourage better lifestyle choices for our students. It's also a good awareness issue for our students as they graduate, since companies are becoming more stringent about tobacco use in the people they hire."
Because the new policy represents a cultural change on Main Campus, free tobacco cessation resources will be offered, including classes on Health Science and Main campuses, as well as other support tools. For more information, see utoledo.edu/studentaffairs/reslife/ATODPC/Tobacco_Cessation.html.
Additional cessation information is available at www.smokefree.gov and 1.800.QUIT.NOW.