Five former Rockets ready to pursue NFL dreams
---
For five former Toledo Rockets, the dream of playing in the National Football League begins this week. All five will head to NFL rookie mini-camps beginning Thursday, May 7.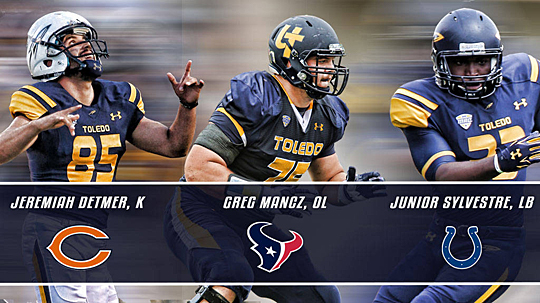 Three Rockets signed free agent contracts: offensive lineman Greg Mancz (Houston), linebacker Junior Sylvestre (Indianapolis) and place-kicker Jeremiah Detmer (Chicago).
Two others — offensive linemen Jeff Myers (Cleveland) and Josh Hendershot (Carolina) — have been invited to try out at rookie mini camps this weekend.
For Mancz, a three-time All-Mid-American Conference lineman who earned MAC Player of the Year honors as a senior, signing with the Texans was the culmination of a great college career — as well as a tense weekend.
"It was pretty stressful watching the draft," said Mancz, who was a potential late-round draft pick according to some pundits. Recent shoulder surgery may have scared off some teams, though Mancz said his shoulder feels fine now. "I'm just happy it's over and very excited to be going to Houston."
Mancz's first call from the Houston coaching staff came from offensive line coach Mike Devlin, a former Toledo assistant who coached under Tom Amstutz from 2004 to 2005. Mancz said Houston was a good fit for many reasons, including the fact that the Texans did not draft any offensive linemen this year.
"It seems like a great opportunity with a good coaching staff and a good group of guys coming back," Mancz said.
Mancz was named second-team All-America by the Football Writers Association of America. He was the first Rocket to earn All-American honors since Eric Page was named honorable mention by Sports Illustrated in 2011. He is also the first UT offensive lineman to make either first- or second-team All-America on one of the five major All-America teams since Dan Bukovich made the Associated Press first-team in 1938.
In addition, Mancz was honored as the 2014 Vern Smith Leadership Award winner, given annually to the MAC's top player. He is the first Rocket to receive this award since quarterback Bruce Gradkowski shared the honor with Western Michigan wide receiver Greg Jennings in 2005, and the first Rocket to win the award outright since running back Wasean Tait in 1995. He is also the first offensive lineman to earn the award in its 33-year history. Mancz also made first-team All-MAC as a senior, making him a three-time All-MAC recipient. He moved to center this season after playing three seasons at guard.
Sylvestre, a two-time first team All-MAC selection, also is excited to be heading to Indianapolis. Sylvestre, who led the Rockets in tackling in each of the past two seasons, benefits from being a very strong tackler on special teams. He said he was not necessarily expecting to be drafted.
"I wasn't really disappointed," Sylvestre said about not being chosen in the draft. "I'm just looking for an opportunity to play. I had a lot of offers, but Indianapolis showed the most interest. I think it will be a great opportunity for me."
Sylvestre was a two-time first team All-MAC selection. He led the Rockets in tackles in both his junior (118 tackles) and senior seasons (100 stops).
Detmer was attending a friend's wedding Saturday night when he got the call from the Bears.
"It's an awesome opportunity," said Detmer, who set the all-time MAC career record by connecting on 84.4 percent of his field goal attempts. "I'm excited to go to Chicago. I have lot of relatives who live in the Chicago area. I'm just going to go out there and do my best and we'll see what happens."
Detmer was a three-time All-MAC kicker who was named the league's Special Teams Player of the Year in 2013. For his career, Detmer made 65 of 77 field goal attempts, including 19 of 20 in his junior season in 2013.
Toledo has a strong history of placing undrafted players on NFL rosters. Of the nine former Rockets on NFL teams last year, six began their careers as undrafted free agents.